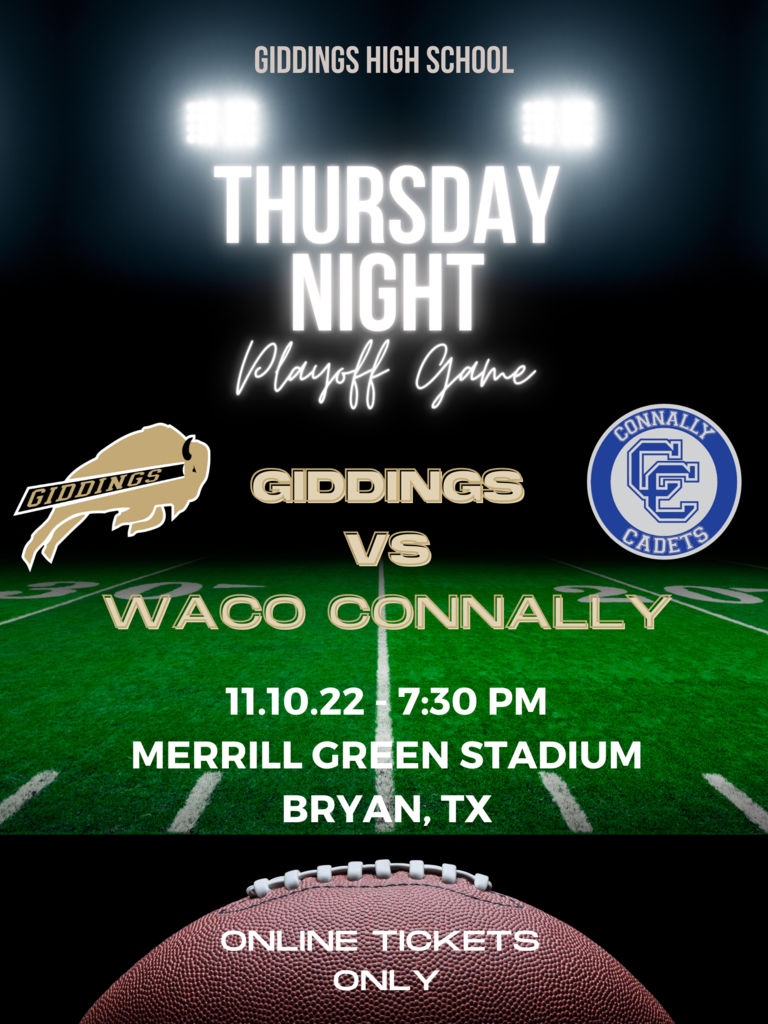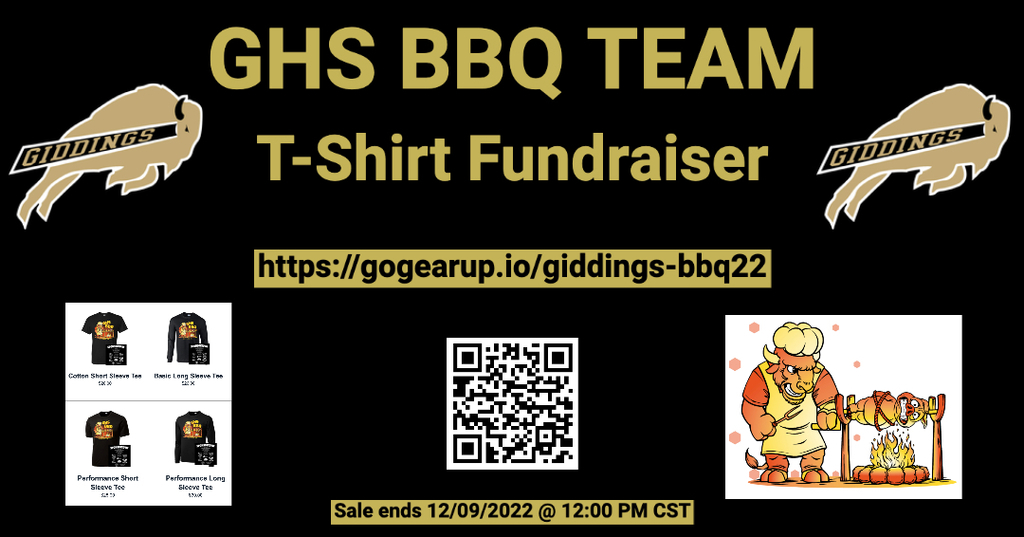 Hey, Giddings Buffalo Fans! It's time to get a head start on all your Cyber Monday shopping. Visit your Sideline Store now and take 25% OFF the hottest Giddings Buffalo apparel and accessories on everyone's list with code CYBERMONDAY. Don't wait--order by November 28 to receive by December 25. Go Buffs!
http://sideline.bsnsports.com/schools/texas/giddings/giddings-isd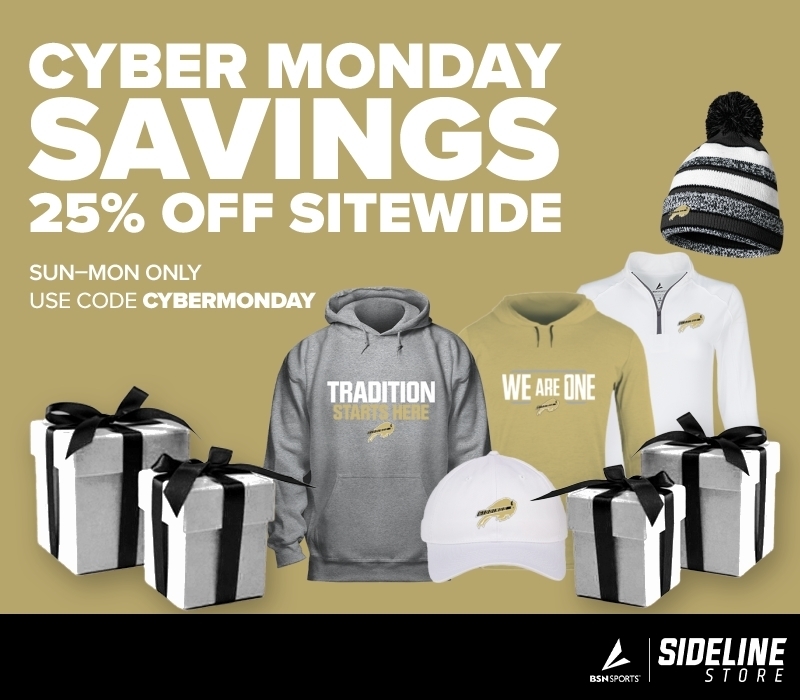 GISD Superintendent Roger Dees highlights a few items of interest for the Giddings ISD community -- a PDF of this November newsletter is available here:
https://5il.co/1kj4a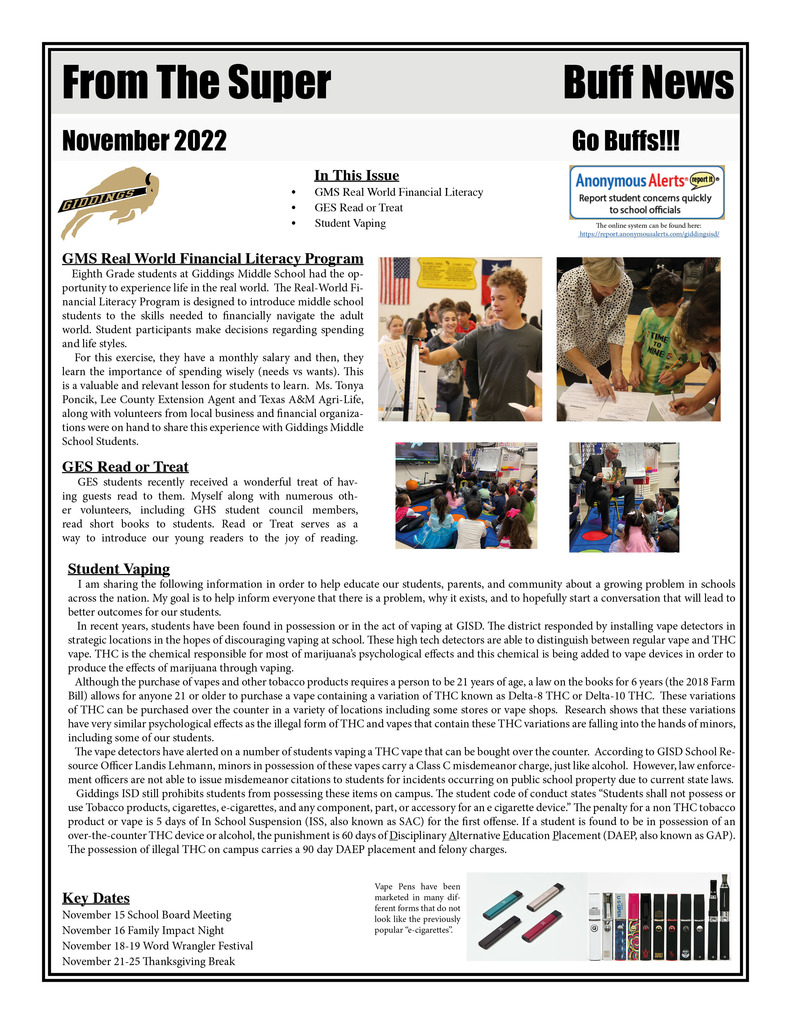 Carlie Weiser signed her letter of intent to join D1 Texas A&M's Track and Field throwing team yesterday. She was joined by family and friends from the community, along with her coaching staff to congratulate her on this exciting opportunity. Way to make us Buffalo Proud Carlie!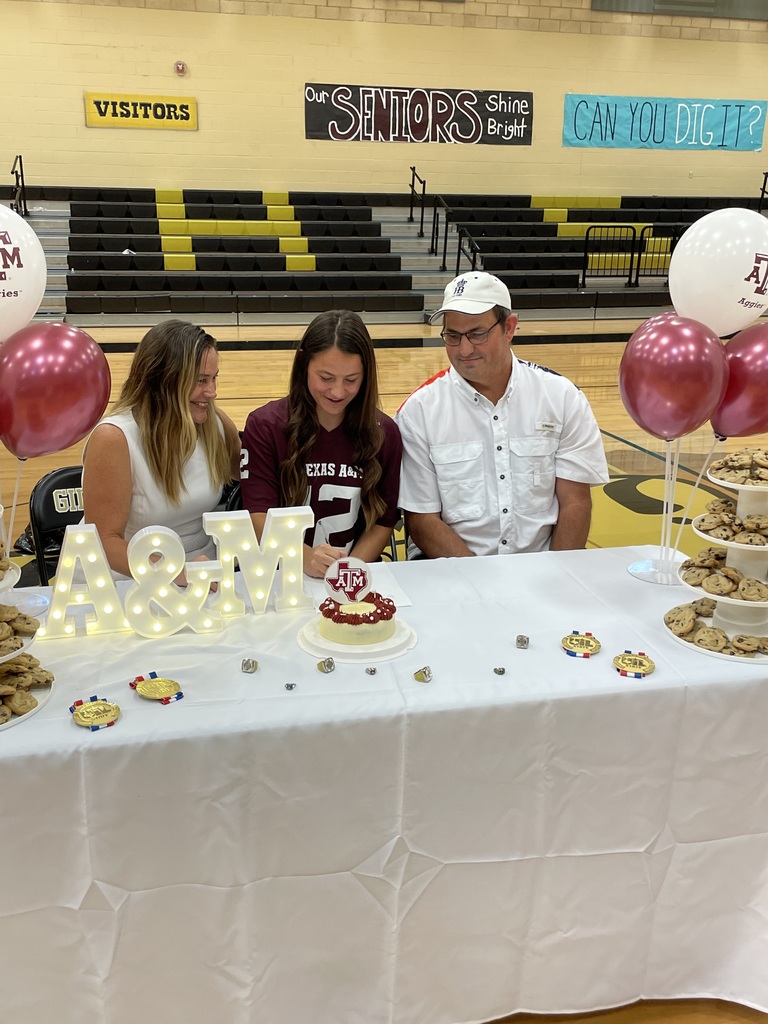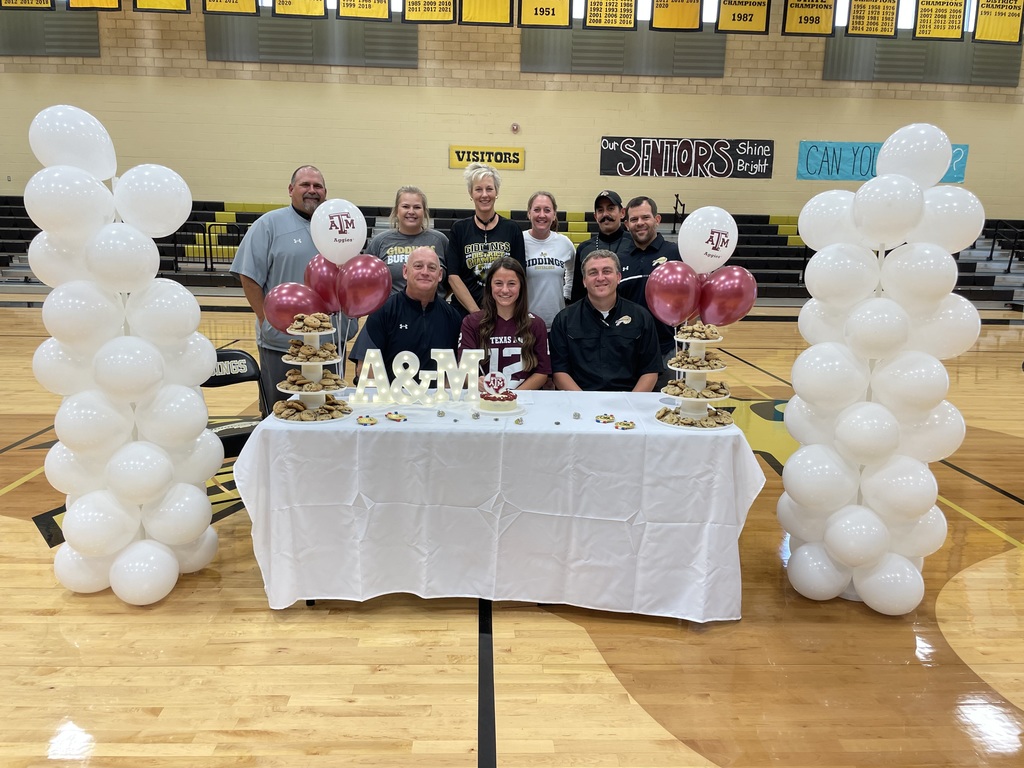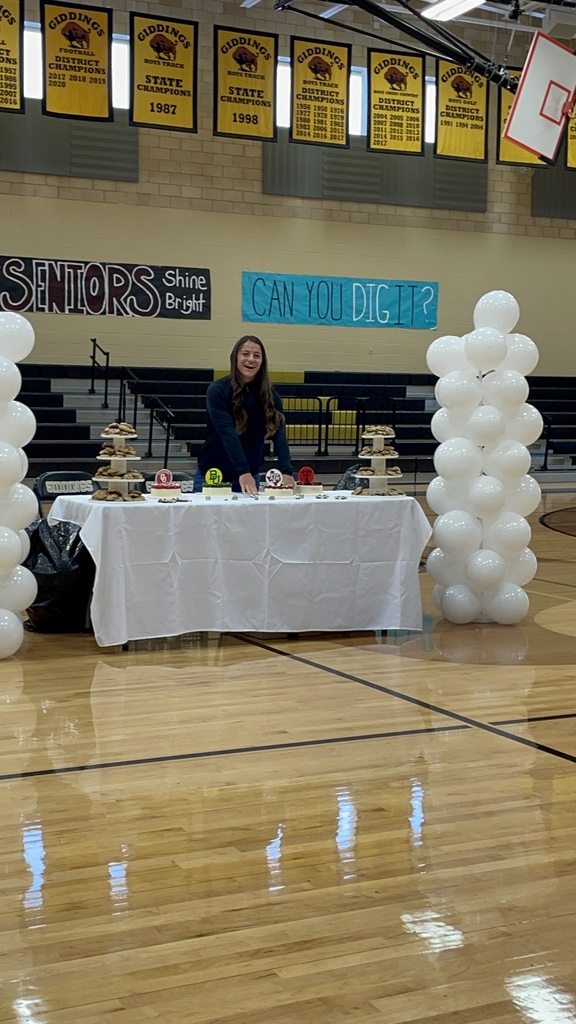 Attention Seniors & Senior Parents: If you did not order your cap & gown & other graduation items recently on campus the time is now. Please take the time to go online & order your official Giddings cap & gown & other graduation items. Items can be ordered individually or as a graduation package as seen online. All orders should be placed online by Wednesday November 18th. Follow the below link to order your items today & congratulations to the Class of 2023!!
https://highschool.herffjones.com/secom/school/TX/GIDDINGS%20HIGH%20SCHOOL/42000088000/2620/packages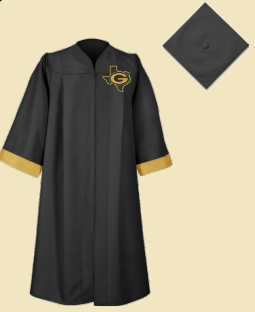 Students traveled to UT Austin on Oct. 29 to participate in the UIL Student Activities Conference. Students learned about the rules of their UIL events and met with the writers of the UIL contests. The students also toured the UT campus and saw UT stadium and UT tower. The students enjoyed seeing the campus and meeting fellow students who will be competing in their events later this school year.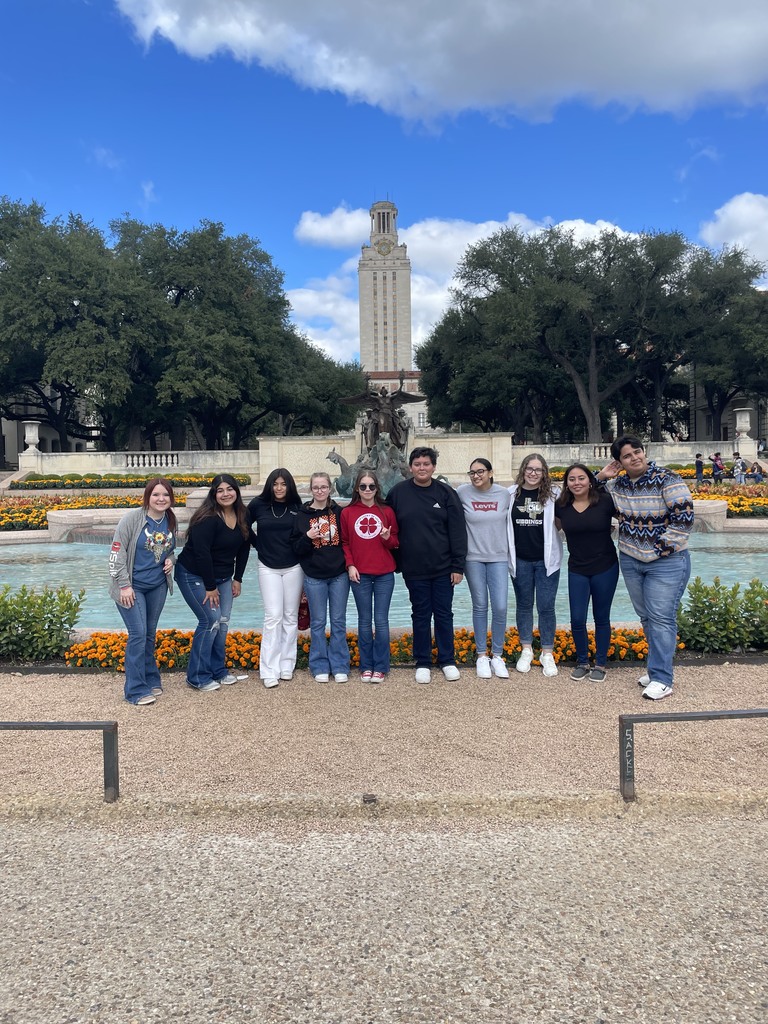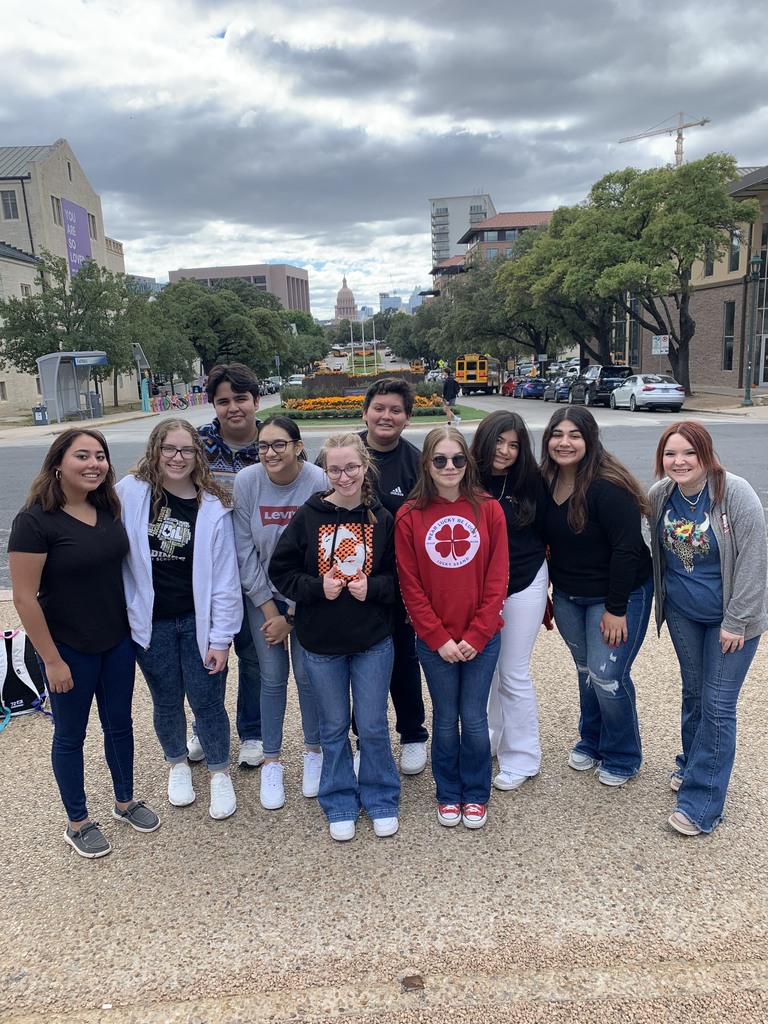 Four Time State throwing champ, Carlie Weiser, will have her official signing day on November 9th at 3pm in the high school gym. Her signing is open to the public as she will reveal where she has chosen to attend college next year.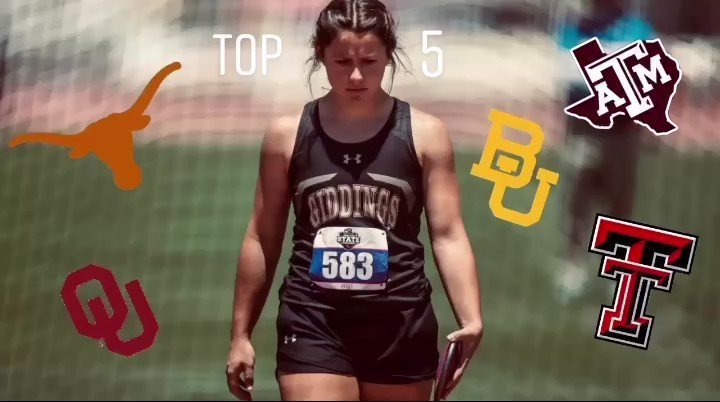 Congratulations to the Buffs for making the playoffs! They will play the (Waco) Connally Cadets on Thursday, November 10 @ 7:30 Merrill Green Stadium 3450 Campus Drive Bryan, Texas 77802 Ticketing info will be posted as soon as it is available.

GHS Lady Buffs Area Playoff Important Ticketing Information ** TICKETS ARE ONLINE PURCHASE ONLY ** Use this link to purchase:
https://www.vancoevents.com/BNCI
*NO RETURN ENTRY * NO OUTSIDE FOOD/DRINKS * CONCESSIONS STAND OPEN * NO ANIMALS ALLOWED WITHOUT SERVICE VEST * *** GHS Lady Buffs Area Playoff ** Friday, Nov. 4 ** at Weiss HS in Pflugerville @ 6:00 PM ** vs Lago Vista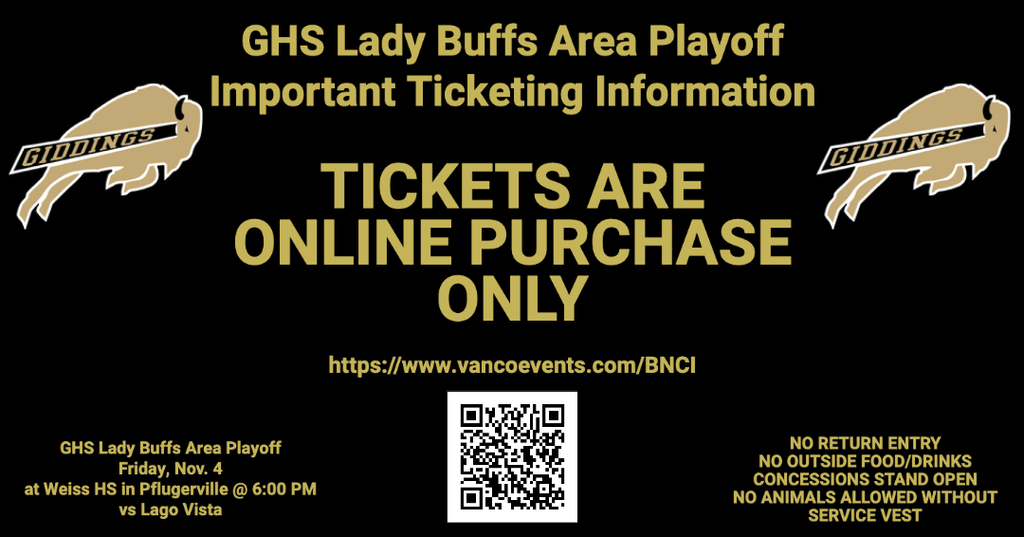 The GHS Lady Buffs varsity volleyball team will compete in the Area Championship round against Lago Vista this Friday night. The match will be played at Weiss High School (Pflugerville ISD) at 6:00 PM. Tickets are $5 for adults and $3 for students. Tickets will be available at the door. No online ticketing information is available at this time.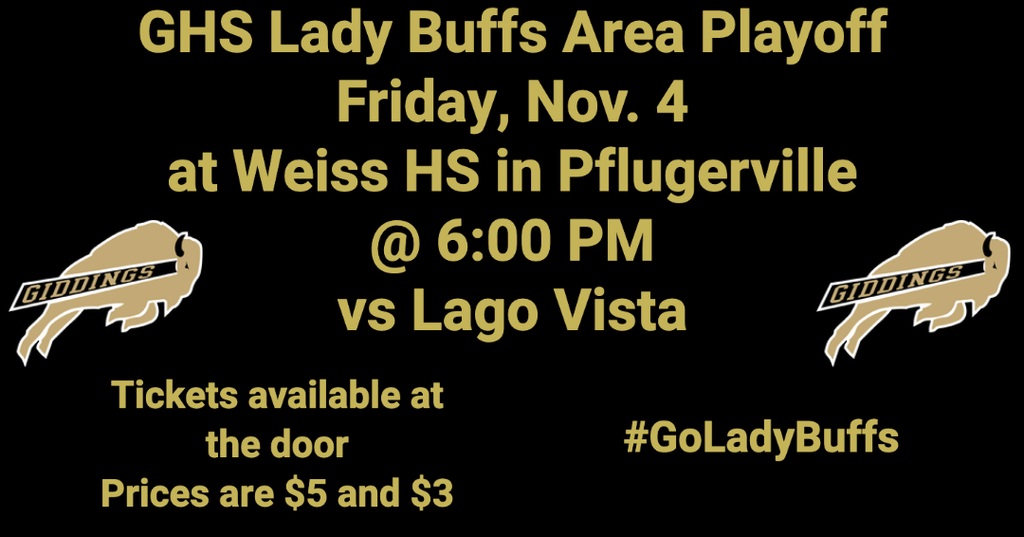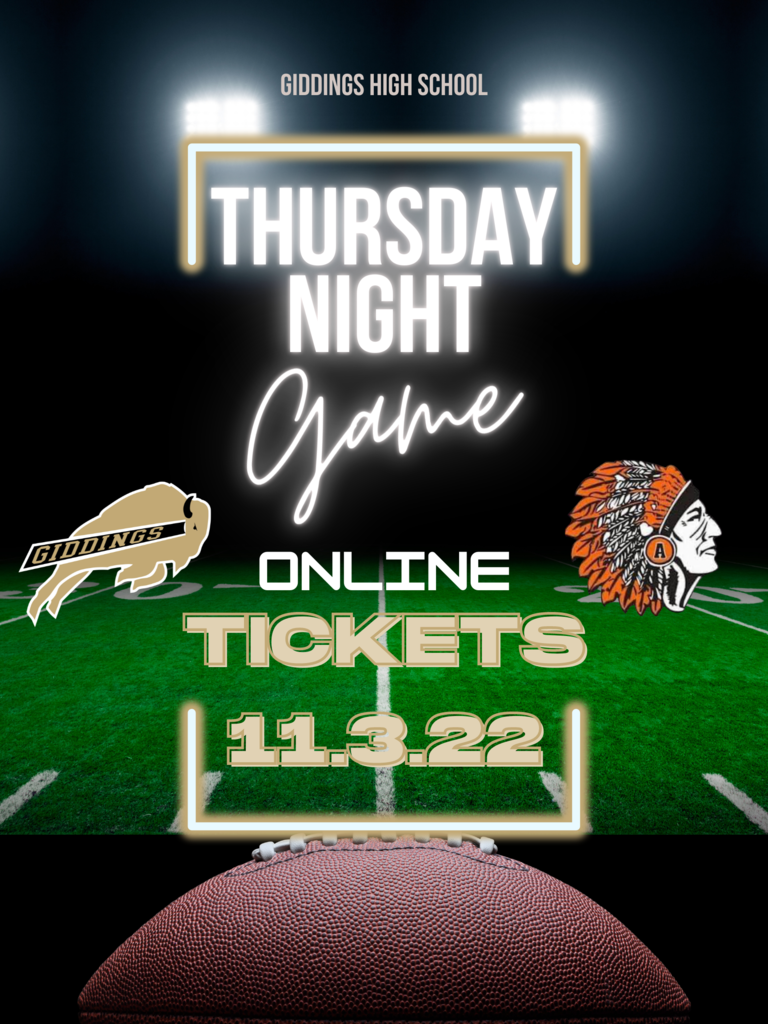 The sub-varsity football games that were rescheduled for today have NEW START TIMES. The Freshman team will play at 5:30pm. The JV team will play at 7:00pm.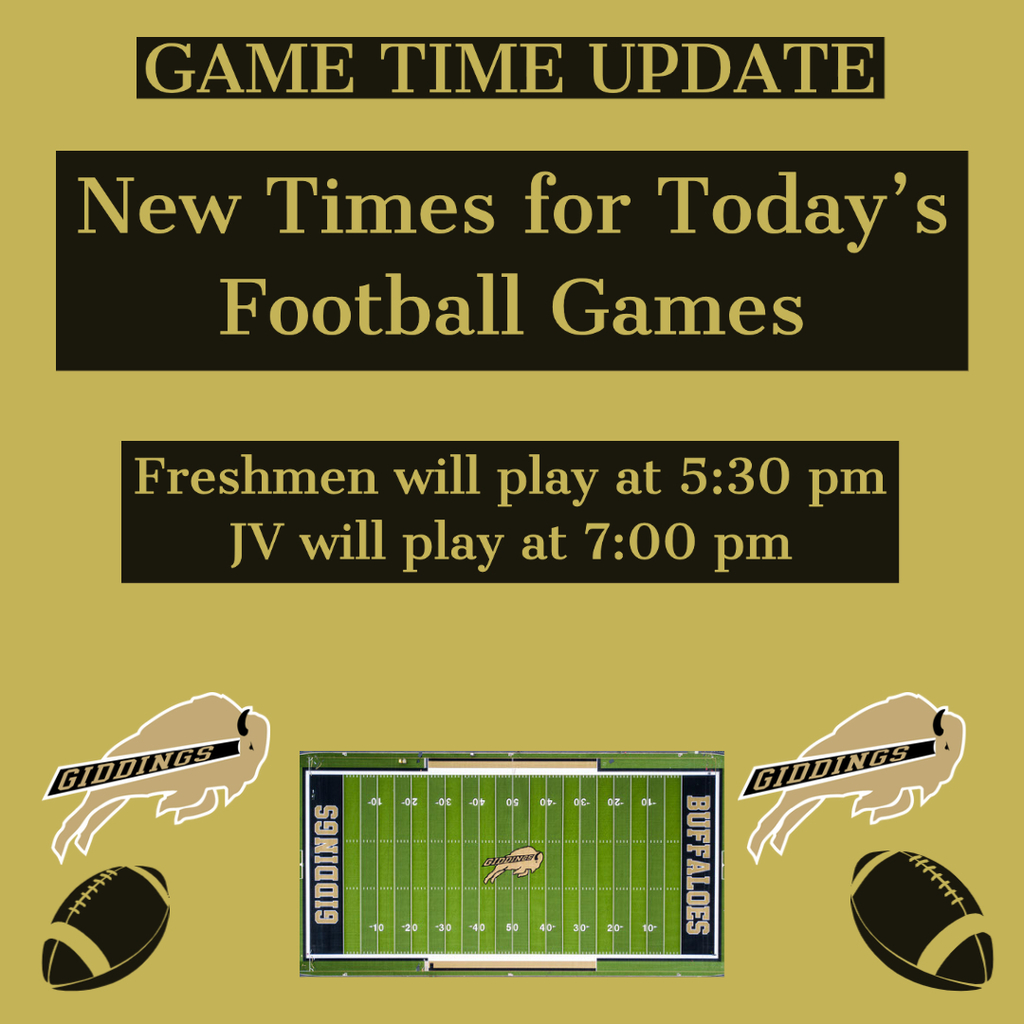 Due to the forecast for severe weather on Friday, and out of an abundance of caution, GHS football games will be moved up one day this week. Varsity will play on Thursday and sub-varsity teams will play on Wednesday. All game times will remain the same.

GHS Boys Cross Country STATE MEET INFORMATION DATE: Friday November 4, 2022 RACE TIME: 4A Boys - 9:00am LOCATION: Old Settlers Park, Round Rock, Texas TICKETS: Spectator Tickets: Tickets will be sold by car. The price paid by car for parking will be considered entry into the event. It is recommended to purchase tickets online in advance. NO CASH transactions will be available. Tickets may be bought on site with credit/debit card ONLY. • $25.00 – Vehicle with up to 2 persons • $40.00 – Vehicle with 2 or more persons • Purchase tickets here -
https://uiltexas.hometownticketing.com/embed/all?fbclid=IwAR1xWxD5v8mQnl_K8qIGqLkupIHOlRWTfNW5K5NKcehx4yAbXvLPk2__5LU

GO Lady Buffs!!! Going to the next round in the playoffs! More information on the next game coming soon.


Seniors, Herff Jones will be here on Wednesday, 11/2 from 11:50 am to 1 pm to take orders for graduation caps and gowns. You can also order online using the following link. Orders must be in by Nov. 18th to guarantee on time delivery.
https://www.herffjones.com/schools/highschool/42000088000/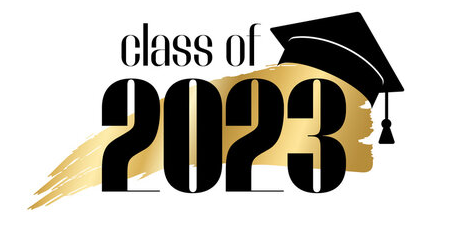 District CHAMPS!!! GO Lady Buffs!!! Our lady Buffs are headed to the playoffs!!