Tonight is Family Impact Night! Giddings ISD encourages families to foster, re-establish, or even strengthen relationships in the household. The district has set aside one night per month (3rd Wednesday) in which all students in every grade level will not be assigned homework. Read more here:
https://www.giddings.txed.net/article/536379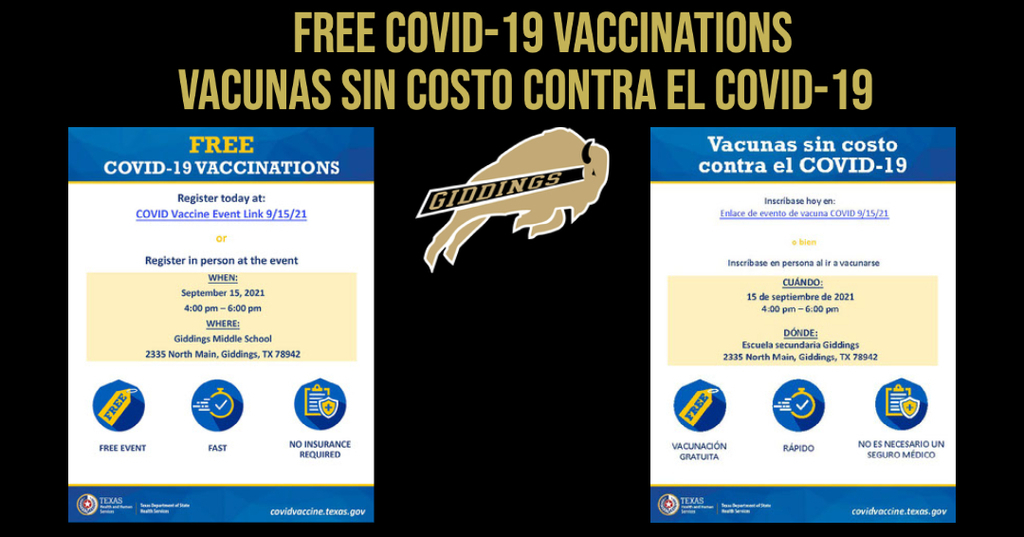 This is a general reminder of expected conduct at Buffalo Stadium. Please review the Code Of Conduct here:
https://5il.co/yrdu
Key points include: 1)All students not seated with their parents must sit in the student section. 2) Students are not be allowed to run in the stands or congregate under the stands or anywhere else. 3) Parents are not allowed to drop off a child under the age of 12, to the football game.

GMS PTO Meeting Tuesday, September 14, 2021 5:30 p.m. @ GMS Library All Parents Invited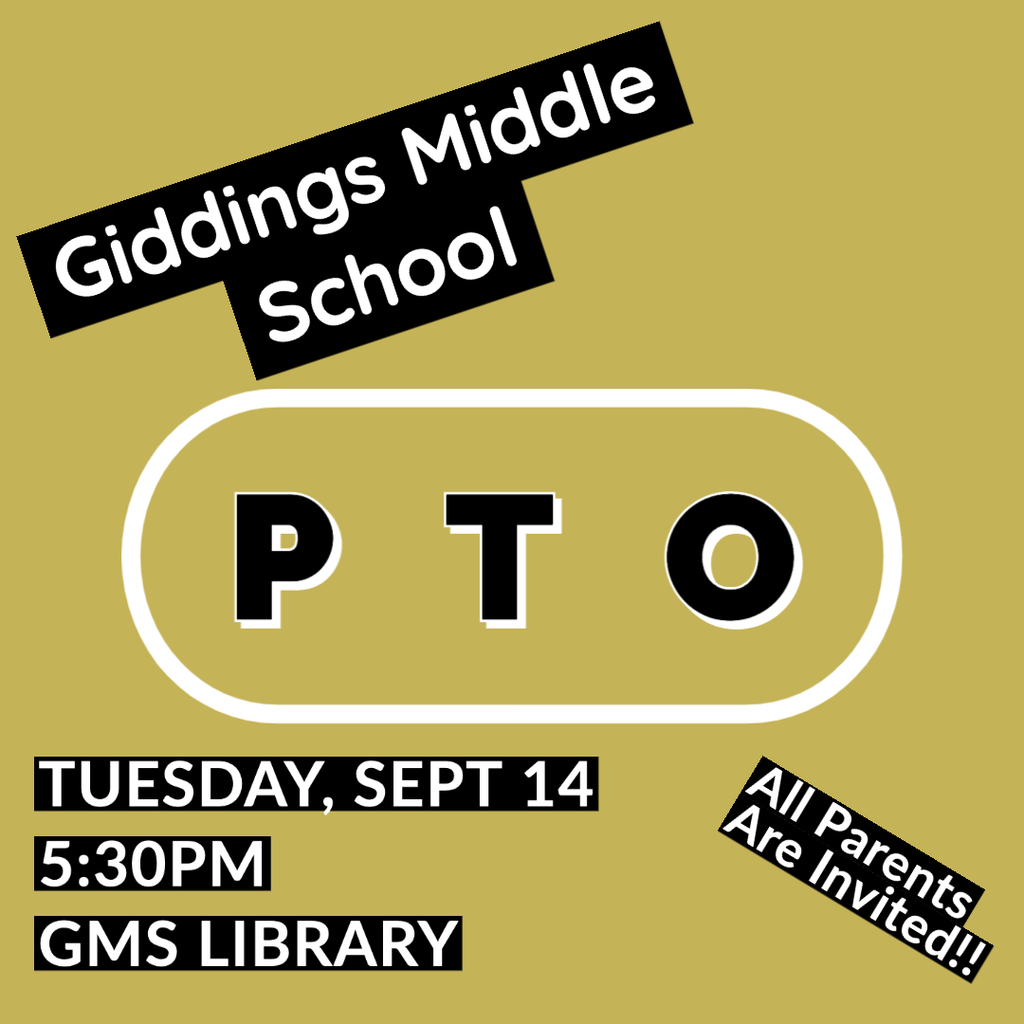 Pre-Game Meal -- Black History Club Fundraiser - Friday, Sept. 10 - Homecoming - Buffs vs Taylor -- $10 for Fried Pork Chops, Green Beans, Mashed Potatoes, Bread and Tea. To-go or Dine-In @ GHS Cafeteria 4:30 PM - 7:00 PM. Tickets available from any GHS Black History Club member, or contact David McDowell @ (979) 542-3351/ Email:
david.mcdowell@giddings.txed.net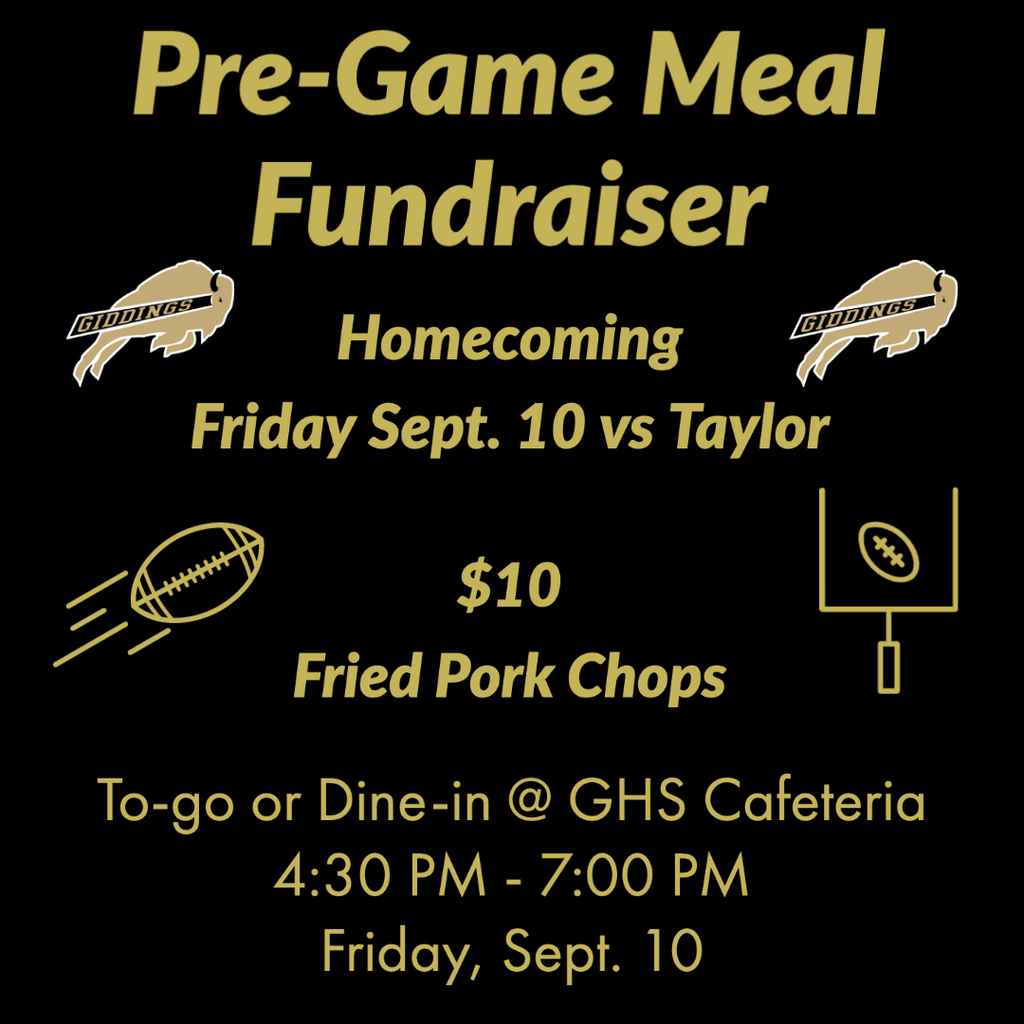 GISD would like to remind parents of the following: 1) Please continue to monitor your child for symptoms of illness. 2) If your child has any symptoms, please DO NOT put them on a bus, or drop them off at school. 3) If you would like to have your child tested, please call your campus nurse to arrange a time for a free test. Nurses will meet you in the parking lot to administer the test.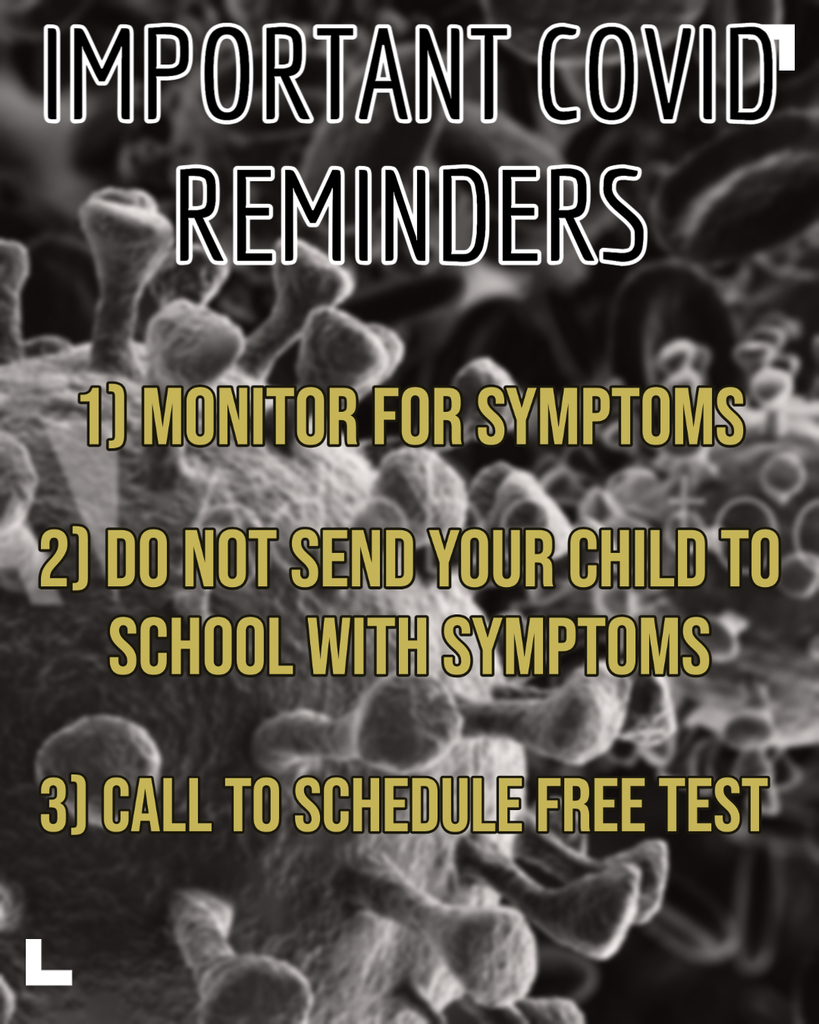 Pre-Game Meal Student Council Fundraiser Friday, Sept. 3 Home Opener - Buffaloes vs. Columbus $10.00 for BBQ pork steak, noodles, green beans, bread & water To-go or Dine-in @ GHS Cafeteria 4:30 PM - 7:00 PM Tickets available from any GHS Student Council Member Or Contact Shelly Kylberg (
michelle.kylberg@giddings.txed.net
) or Ami Fromme (
ami.fromme@giddings.txed.net
)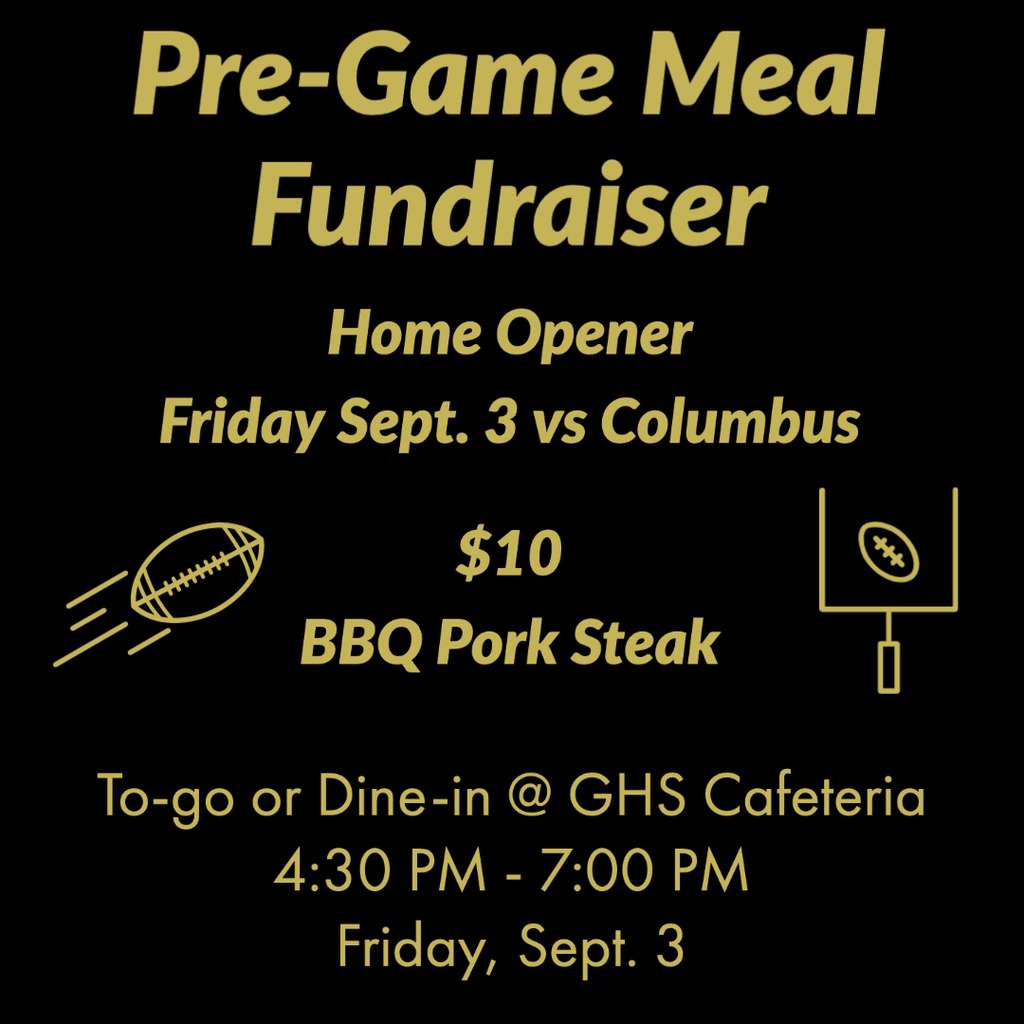 GISD will be providing an opportunity for eligible students, staff, and community members to receive the COVID vaccination if they so choose. It is not mandatory but simply being made available in what we hope is at a convenient time and location. The Texas Department of State Health Services will be providing the vaccination. It is free to any student or staff that is interested. Students will need parent permission to participate in the vaccination clinic. Please complete the following anonymous survey so that the Texas Department of State Health Services will know how to proceed in preparing for the vaccination clinic.
https://forms.gle/BjZfkaoAhNXPCoiG8

There will be a GMS Football parent meeting on Monday, August 23, 2021. The meeting will take place at 6:30 p.m. in the GMS Gym. "Meet the Buffs" will take place at 7:30 p.m. at Buffalo Stadium. At that time our 7th and 8th grade athletes will be recognized.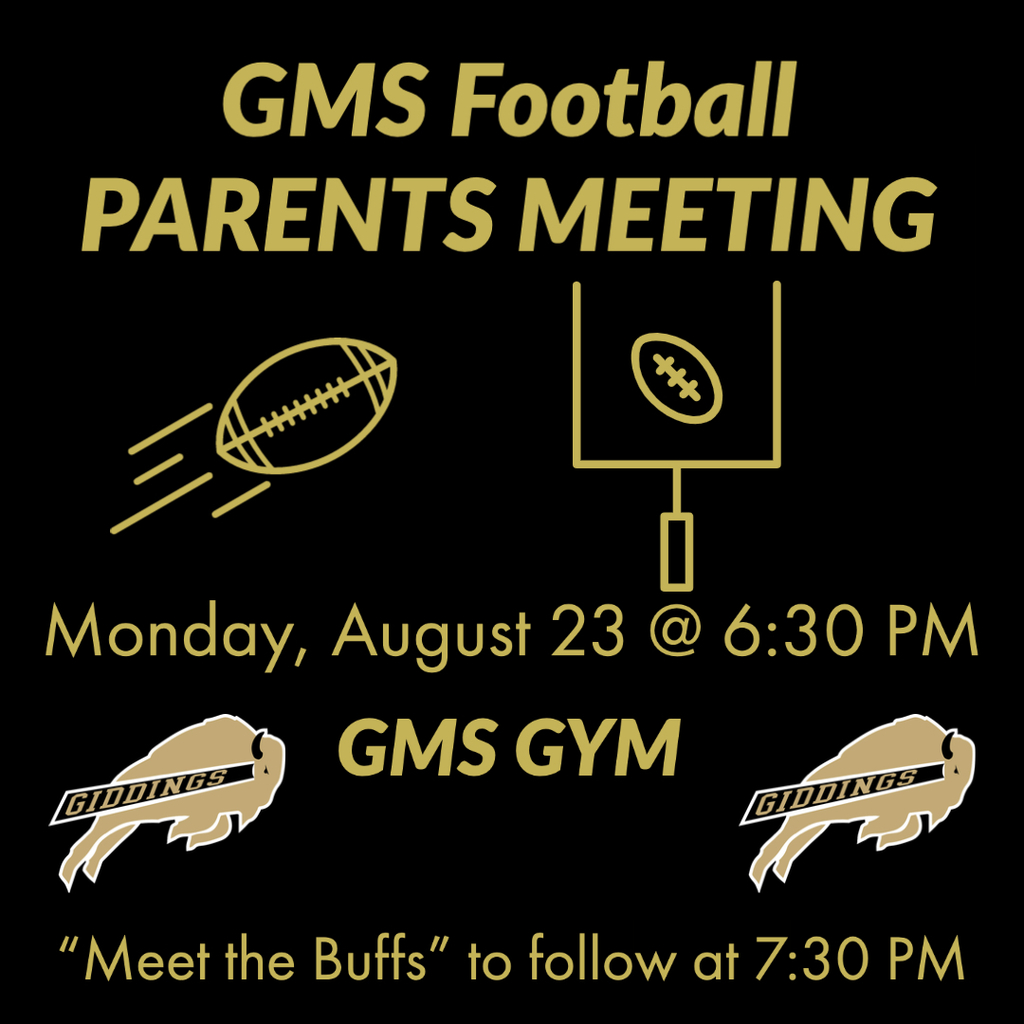 **Meet the Buffs event on Monday** This year's "Meet the Buffs" event will be held at Buffalo Stadium on Monday, Aug. 23 at 7:30 p.m. All Giddings football, volleyball and cross country athletes in grades 7-12 will be introduced to the public, along with band members, cheerleaders and Buffalo Gals. The Giddings Athletic Booster Club will open the concession stand at 7:00 p.m. to provide drinks and snacks during the event. A selection of T-shirts will also be available for purchase. Kids from kindergarten to 6th grade can sign up for the Buffalo Stampede. For a $15 registration fee, children will receive a T-shirt and will have the privilege of running out of the Buffalo helmet before every home game.

*** IMPORTANT REGISTRATION MESSAGE *** All students in 1st through 12 grades must be registered through the online system. Instructions and links can be found here:
https://5il.co/wk5y

Giddings Middle School Parent Meeting for incoming 6th grade parents will be on Thursday, August 12. The meeting for Spanish speaking parents will begin at 5:30pm. The meeting for all other parents will begin at 6:15 pm. Schedules for 6th graders will be distributed at that time.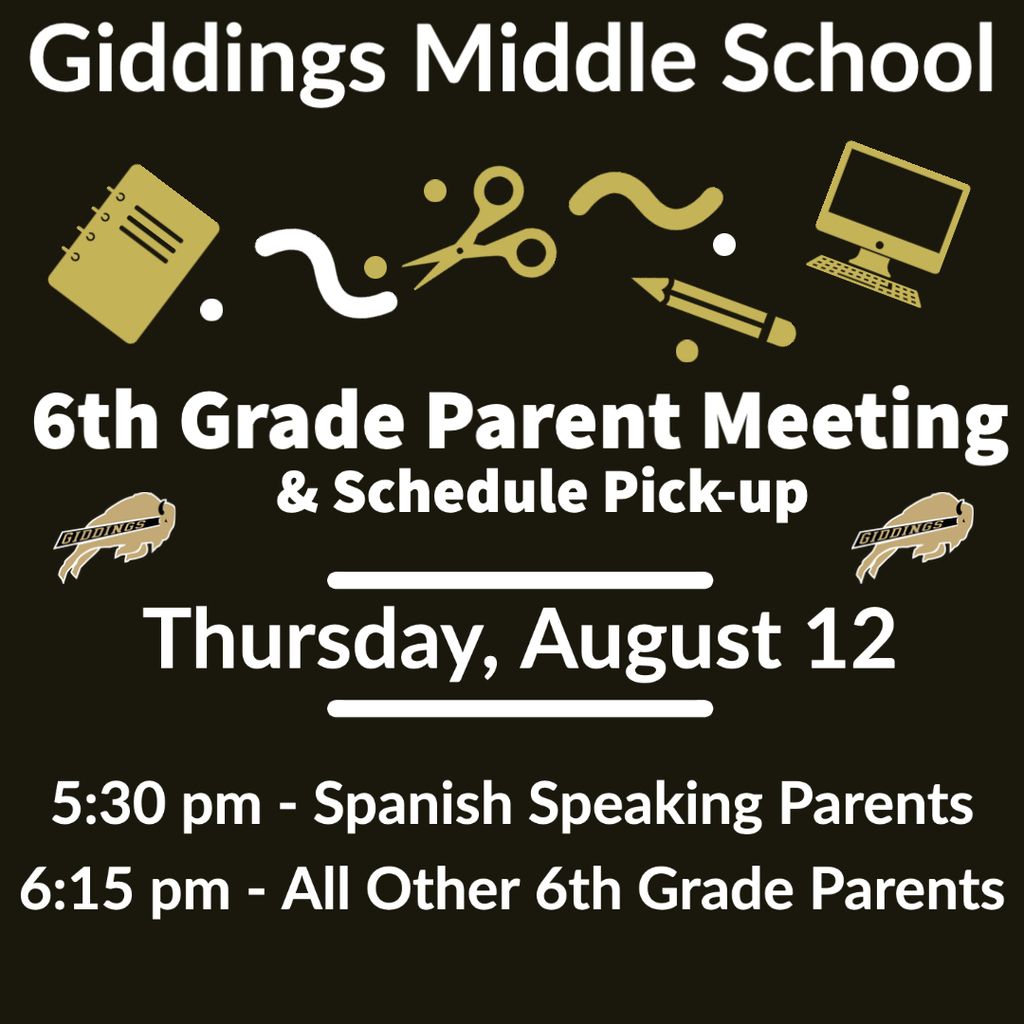 Giddings Middle School 7th & 8th Grade Schedule pick-up day will be Monday, August 16. Please pick up your schedule between 9:00am and 2:30 pm at the Middle School office.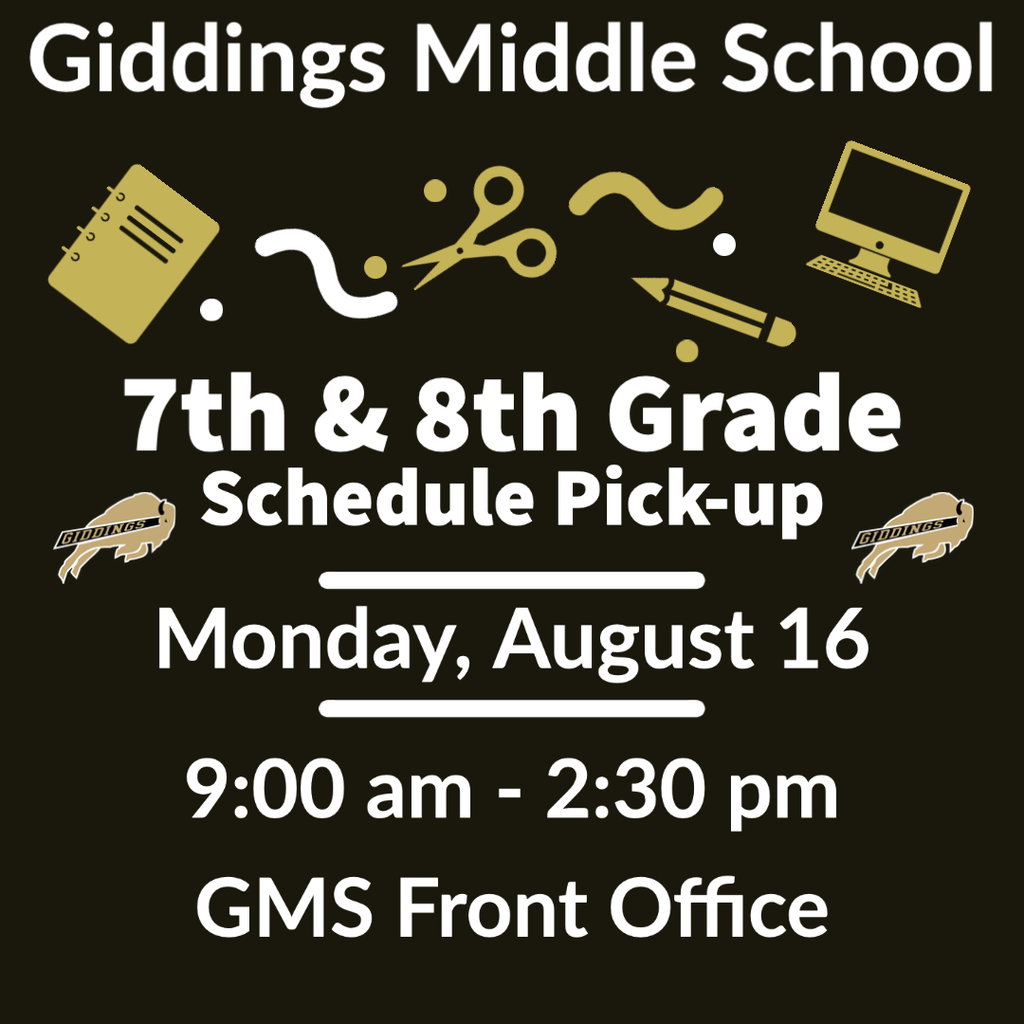 STAAR results are available online. We strongly encourage parents to log in and learn more about their child's STAAR results for the 2020-2021 school year. This link will give you step by step instructions on how to access their results. You will need your child's social security number to lookup their unique access code.
https://bit.ly/STAAR-2021

The 2021 Buffs Football Camp for incoming 1st through 6th graders will be held beginning Monday, July 26. The camp is 3 days, running from 8am to 10am each morning. A printable registration form can be found here:
https://5il.co/vcj9

Buffs Basketball Camp for incoming 4th through 6th graders will start on Monday, June 28 and run through Thursday, July 1. Camp will take place in the High School Gym from 1pm to 2:30pm each day. The cost of the camp is $45. The Camp flyer can be found here:
https://5il.co/umb9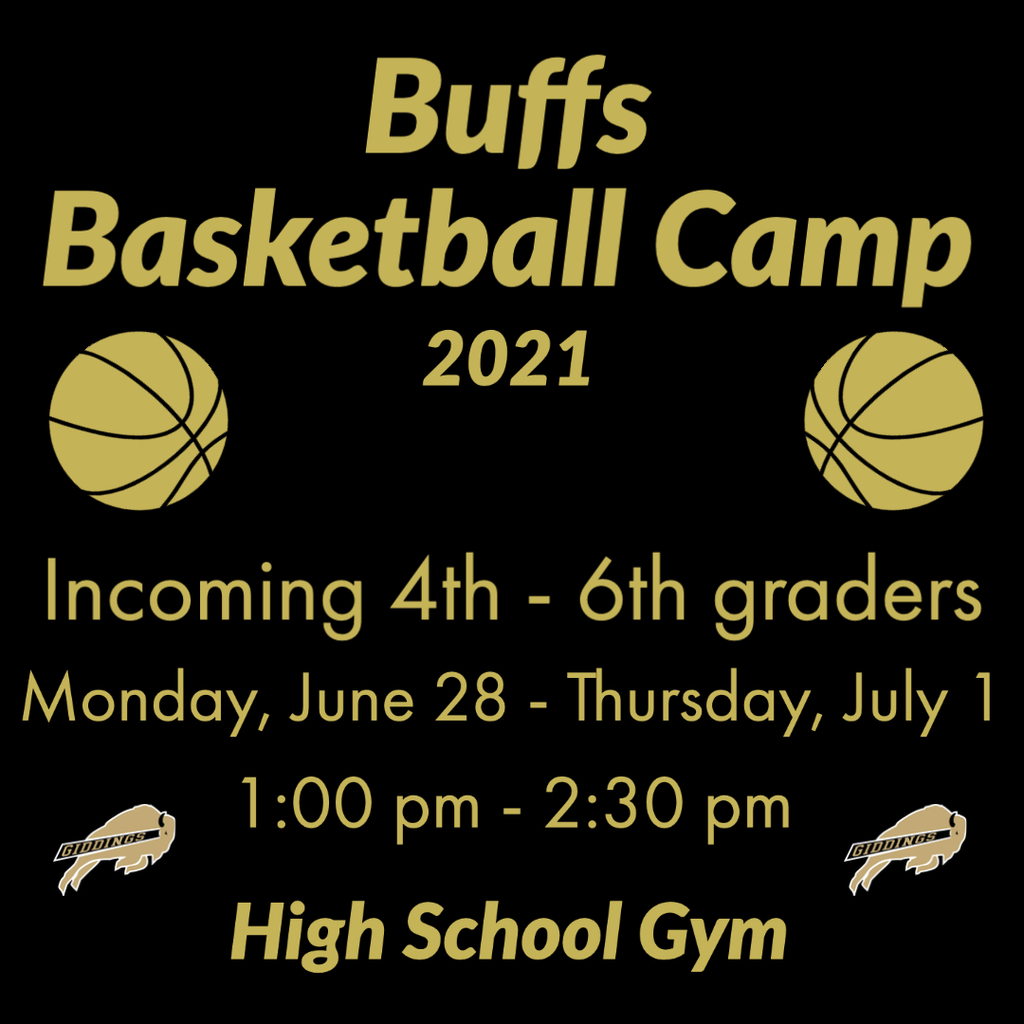 The school supply lists for Giddings Elementary, Intermediate, and Middle Schools are now available. They can be found here:
https://www.giddingsisd.net/browse/221832
Supply lists for Giddings High School will be course dependent and vary depending upon individual student schedules.

*** GRADUATION POSTPONED *** Due to the threat of severe weather, the Commencement Ceremony for the GHS Class of 2021 will be postponed until tomorrow, Saturday, May 29, 2021 at 8pm. This decision is being made early in order that family and friends may adjust plans accordingly. Seniors will still attend Grad Bash tonight.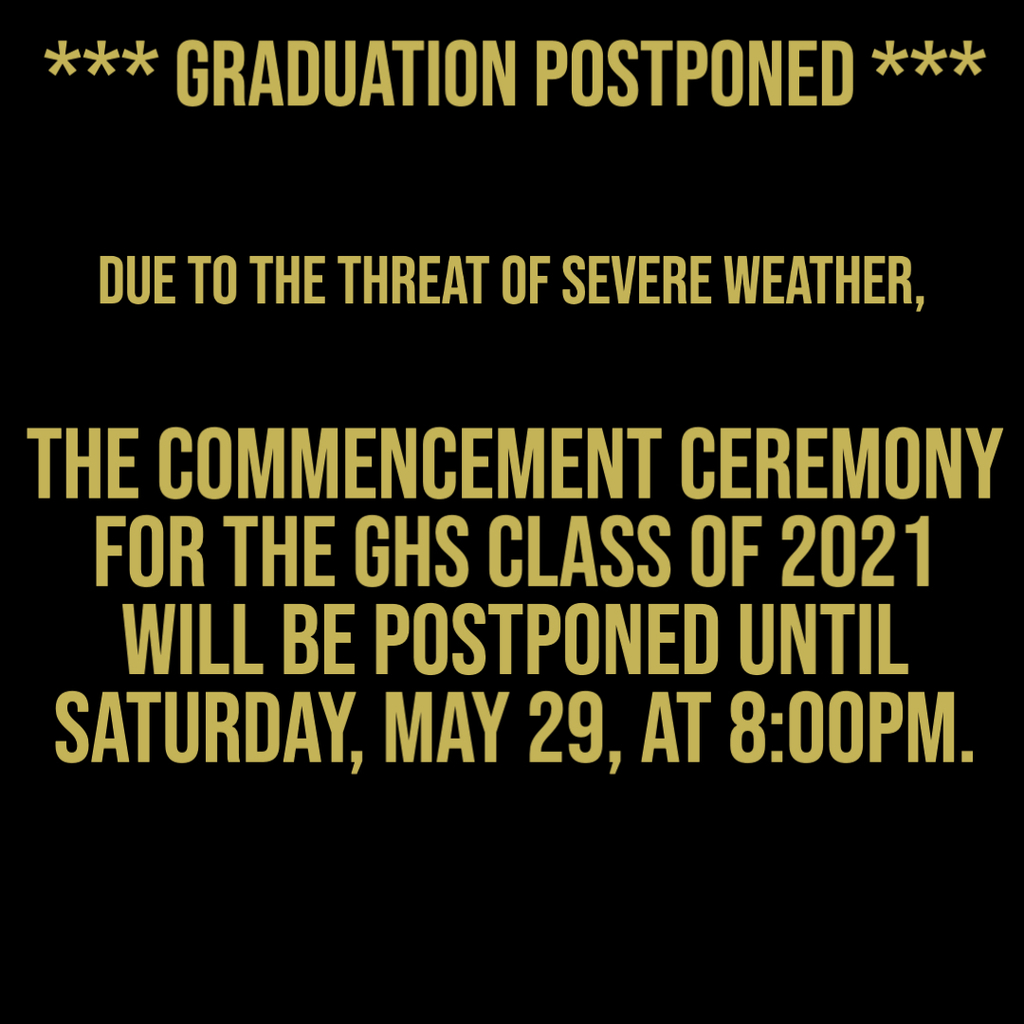 Tonight's Band Concert has been RESCHEDULED due to dangerous weather conditions! The Concert will be held on THURSDAY, May 20, at 5:30 pm. Stay Safe!