Important events coming up at Giddings Middle School Dec. 7th - Math Benchmark (6-8 grades) Dec. 8th - Science and Social Studies Benchmark (8th grade) Dec. 14-17 - Six Weeks Testing Dec. 14 - GISD Winter Band Concert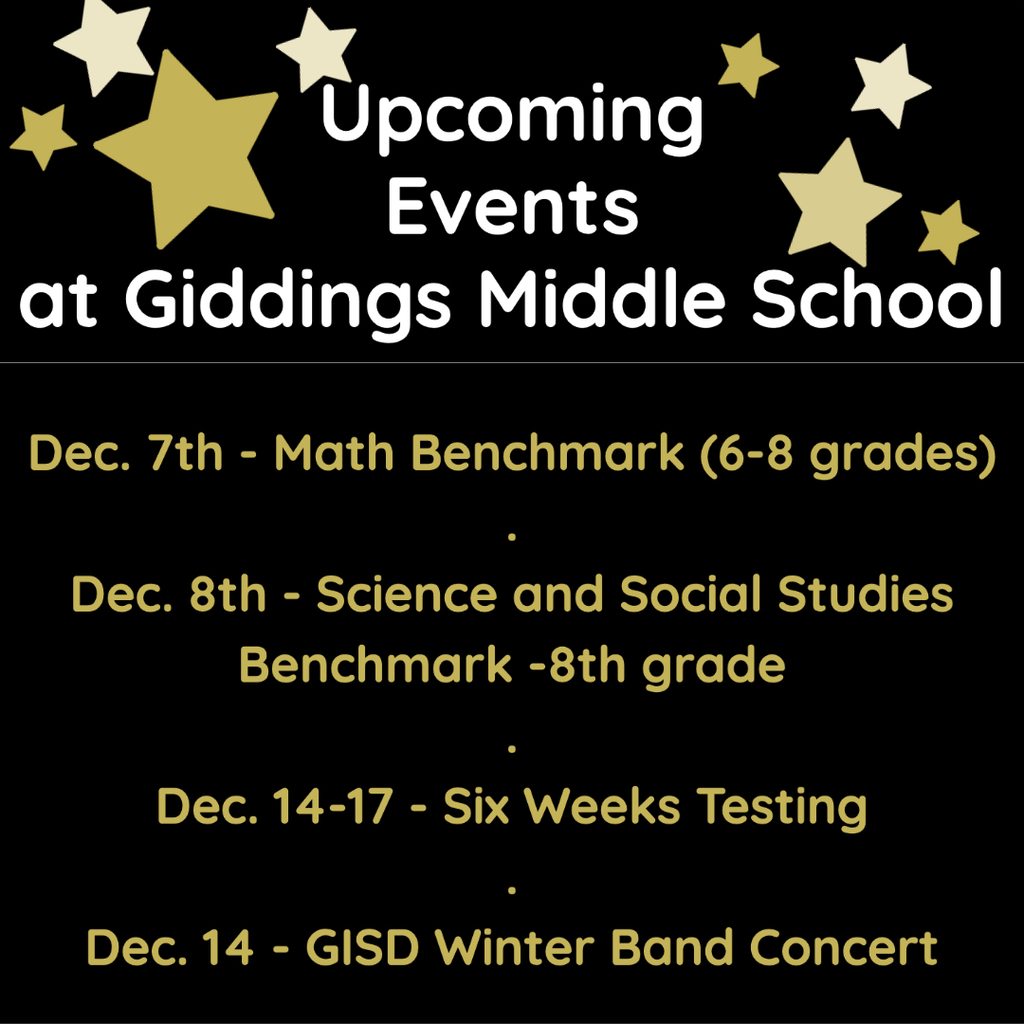 Giddings Middle School would like to wish a safe and Happy Thanksgiving to our students, their families and to our community! Thank you for your continued support of our campus and staff.


Due to the GHS Volleyball Playoff Game, Giddings Middle School Beta Club Induction has been moved from Tuesday, Nov. 9, 2021 to Thursday, Nov. 11, 2021 (same time and location). Good Luck Lady Buffs!

The GHS Lady Buffs will travel to Pflugerville - Weiss to play Burnet in the Regional Quarterfinal round of the UIL volleyball playoffs. The match is Tuesday, Nov. 9 at 6:30 pm. Tickets are $5 and $3 at the door or online at:
https://bit.ly/GHSvsBurnet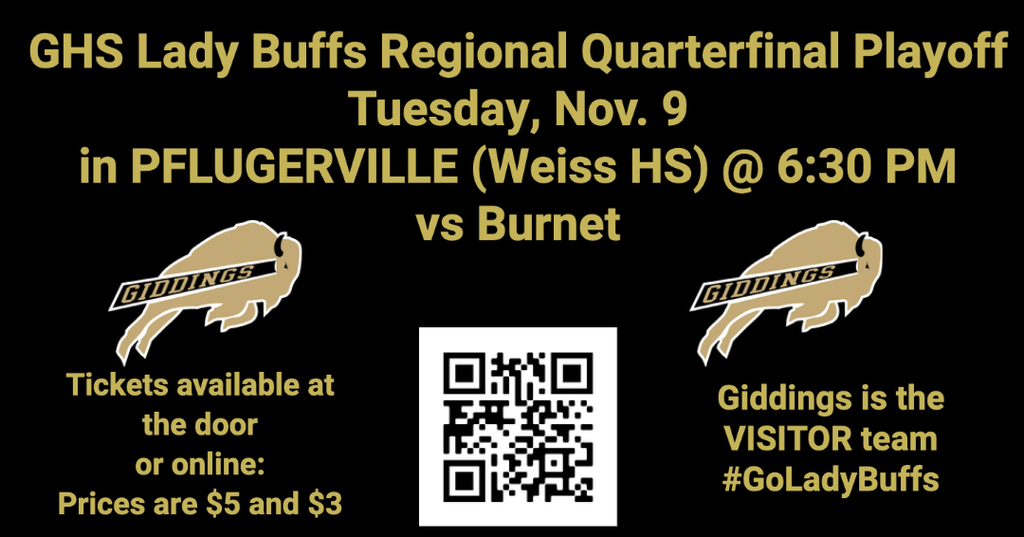 REMINDER!! -- Today's Pre-game meal fundraiser for Lady Buffs athletics is DRIVE THRU ONLY! (Friday, Nov. 5) The line will open at 4:30pm and remain open until 7pm. There are about 40 tickets left. They will be sold on a first-come-first-served basis. The hamburger meal is $10. #GoBuffs #GoLadyBuffs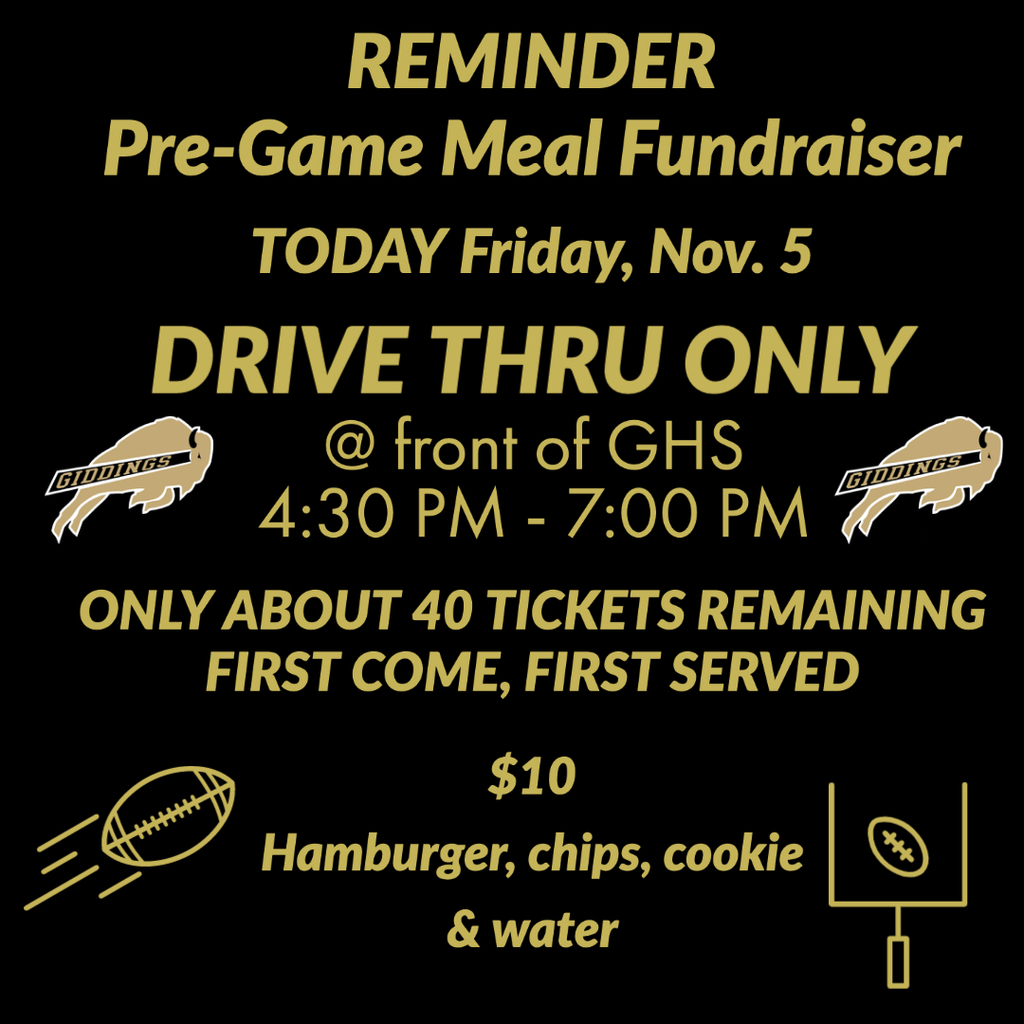 Help the Giddings High School Student Council honor local heroes! Sponsor a wreath today to be placed on a veteran's grave this December at the City of Giddings Cemetery. Just scan the QR code with your smart phone camera to make a donation online or visit
www.wreathsacrossamerica.org/TX0954
. The Due date for ordering wreaths is Monday, November 29, 2021. Wreaths will be placed December 16 & 18, 2021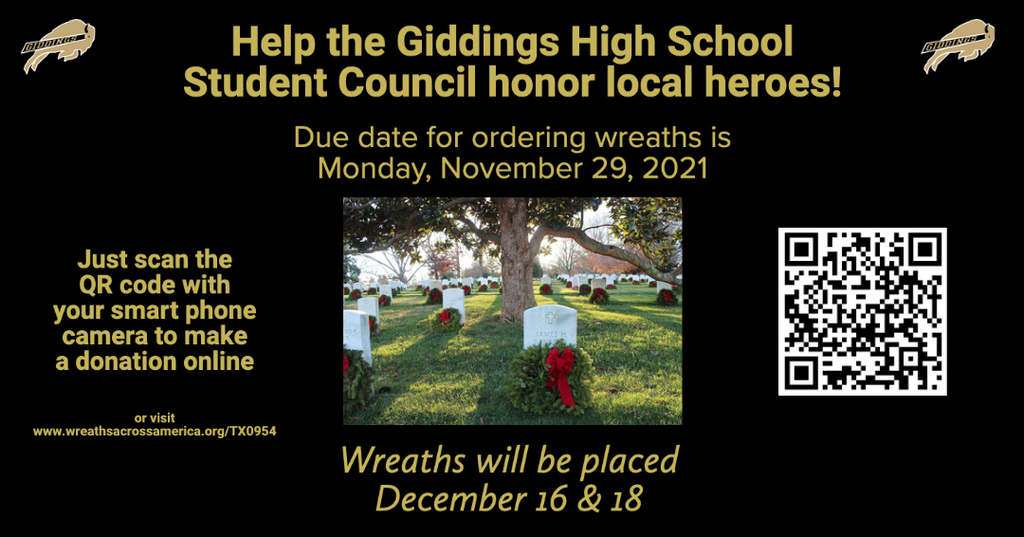 The playoff game for top seed between Co-District Champions Giddings Lady Buffs and La Grange Lady Leopards will be played in Smithville tonight, Friday, Oct 29, at 5:00pm. Giddings is the HOME team. Tickets must be purchased online here:
https://bit.ly/VB-Playoff-GHS-LGHS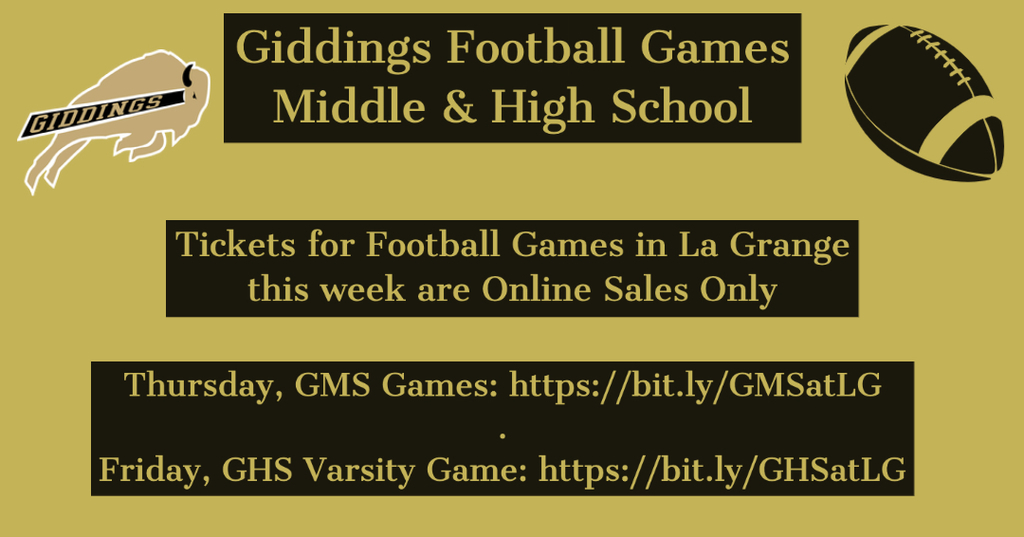 Due to a scheduling conflict, today's School Board meeting will begin at 5:30 PM (as opposed to the traditional 7:00 PM)If you have any questions, please contact the Superintendent's Administrative Assistant Dana Devoll at 979-542-2854.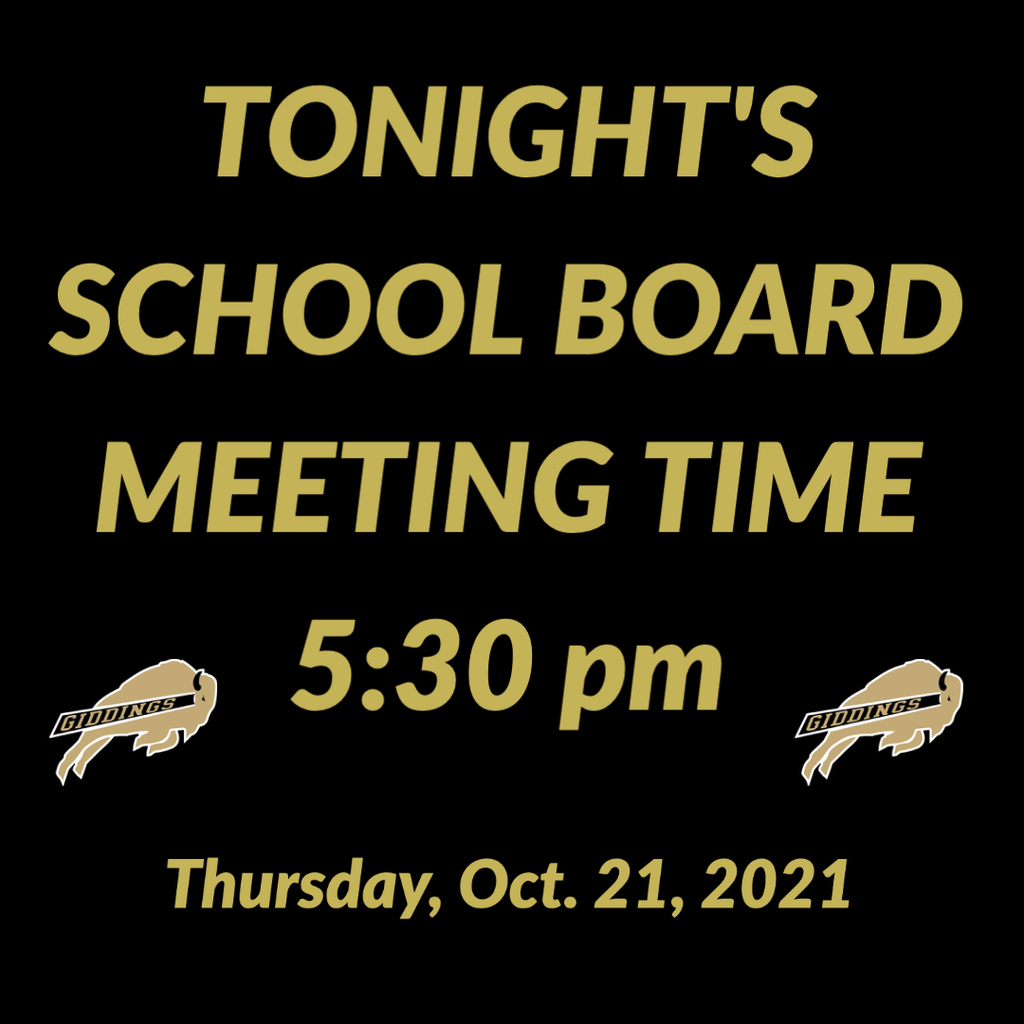 *** REMINDER *** EARLY DISMISSAL *** *** TOMORROW, OCTOBER 15, 2021 *** All GISD Campuses will dismiss 2 hours early tomorrow, Friday, October 15, due to transportation needs for participants in the GHS Varsity Football game in Cuero.

The October meeting for the Giddings Middle School PTO has been postponed due to a scheduling conflict. The meeting will be rescheduled for a later date.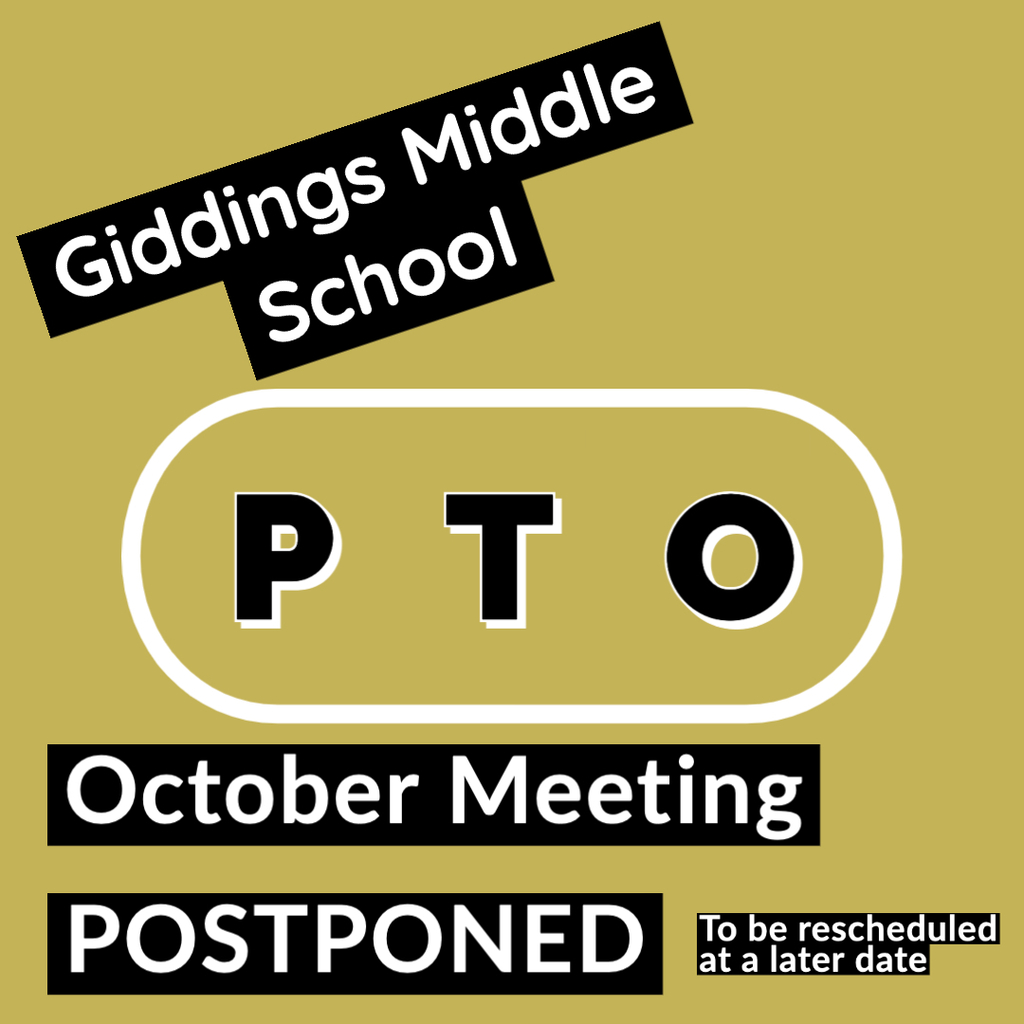 Giddings Middle School Picture Day Tuesday, Oct. 12, 2021 Picture Orders must be prepaid.   Picture forms have been sent home. *** GMS Sports teams photos were taken last week. Ordering information was sent home with athletes.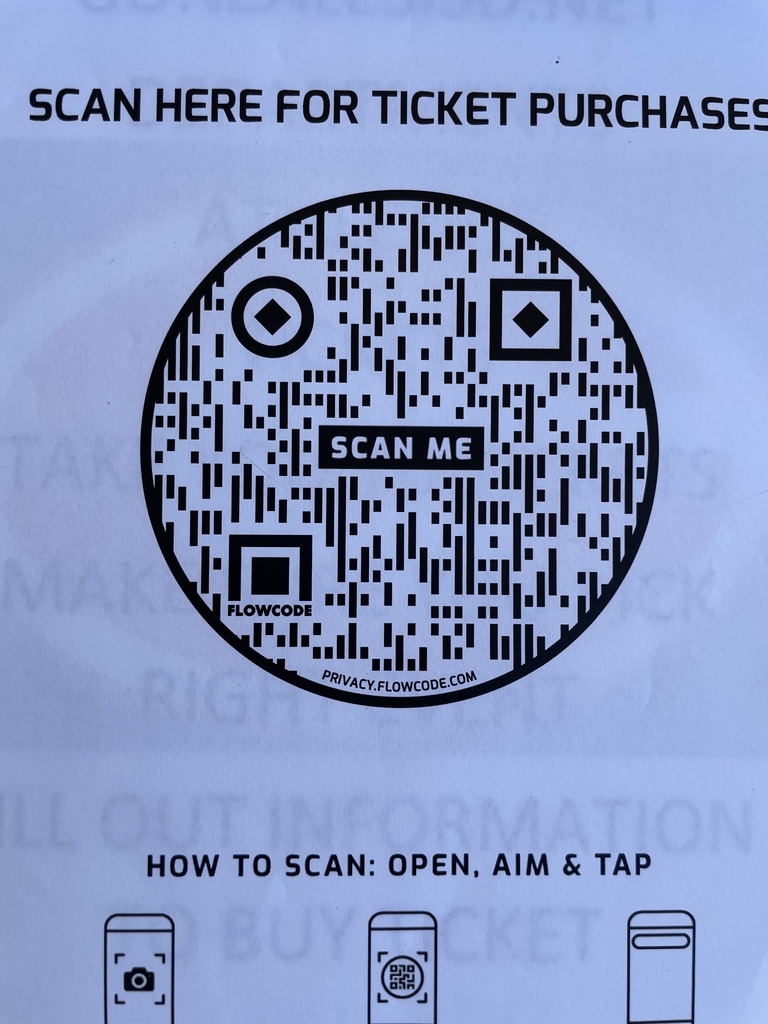 **** NOTICE OF EARLY DISMISSAL *** All GISD campuses will dismiss 2 hours early on Friday, October 15, 2021. *** Due to a shortage of bus drivers, an early dismissal is necessary to provide for the transportation of all participants to the varsity football game in Cuero. *** Dismissal times are: GES-1:15; GIS-1:20; GMS-1:25; GHS-1:35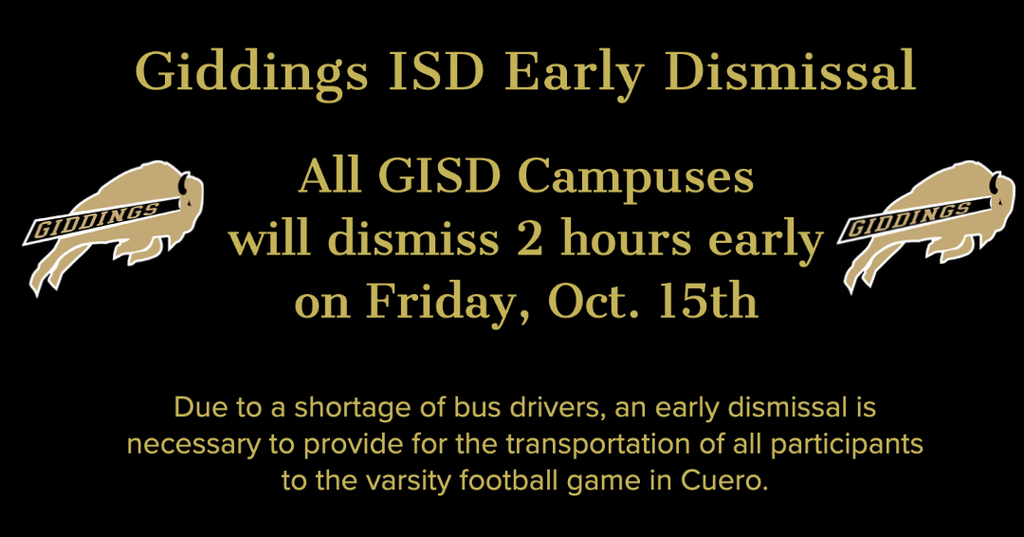 REMINDER TO GMS / GHS PARENTS Regarding participation in UIL activities (sports, band) after COVID Diagnosis Although a student may return to school after the appropriate conditions have been met for time of exclusion, UIL rules state "a student who has been diagnosed with COVID-19 must receive clearance from a physician, or a physician-approved delegate prior to returning to participation in UIL marching band or athletic activities." A special form is available from your child's coach or band director. It must be completed by a physician and returned to the coach or band director before participation (practice or play) can resume. The "COVID-19 Return To Play" form can also be found here:
https://5il.co/zfhr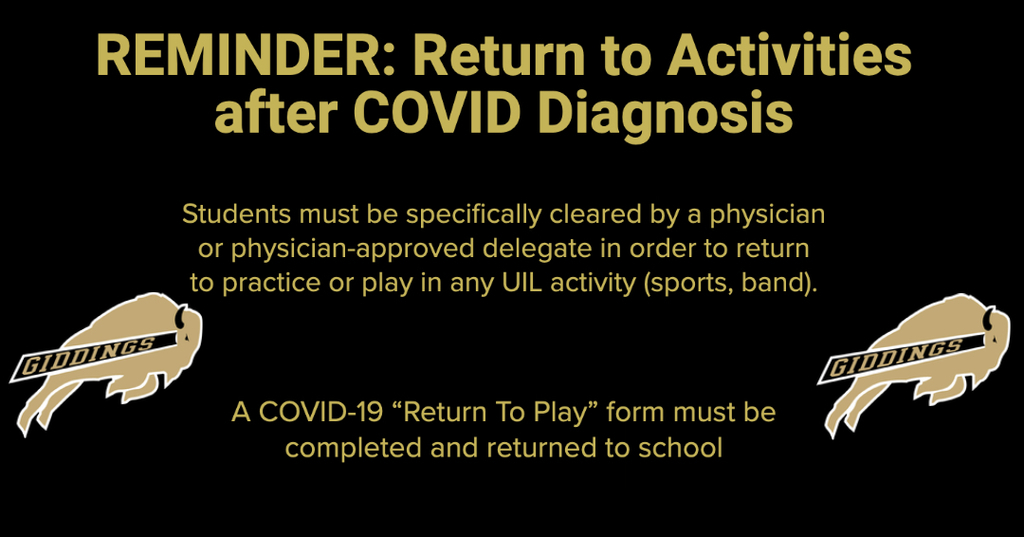 Tonight is Family Impact Night! Giddings ISD encourages families to foster, re-establish, or even strengthen relationships in the household. The district has set aside one night per month (3rd Wednesday) in which all students in every grade level will not be assigned homework. Read more here:
https://www.giddings.txed.net/article/536379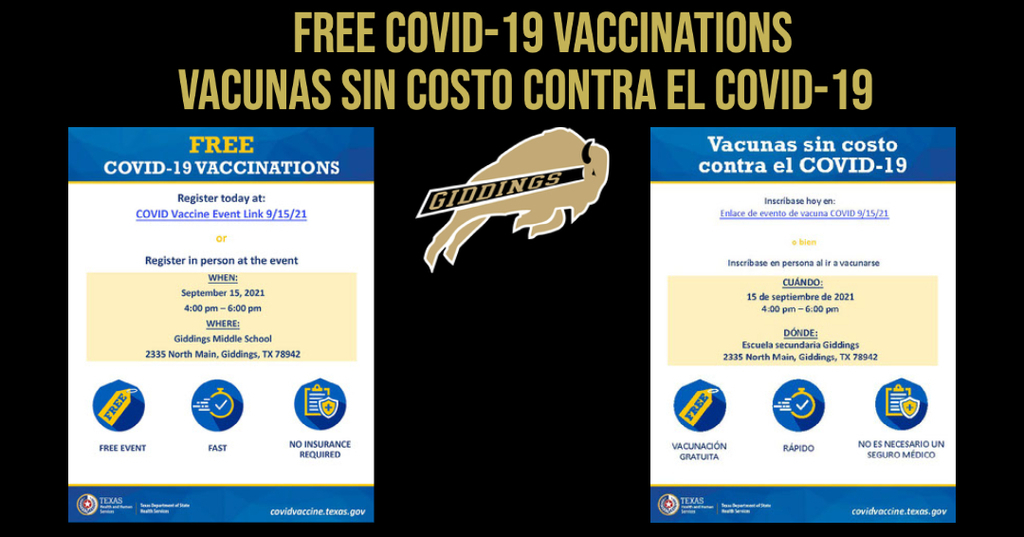 This is a general reminder of expected conduct at Buffalo Stadium. Please review the Code Of Conduct here:
https://5il.co/yrdu
Key points include: 1)All students not seated with their parents must sit in the student section. 2) Students are not be allowed to run in the stands or congregate under the stands or anywhere else. 3) Parents are not allowed to drop off a child under the age of 12, to the football game.

GMS PTO Meeting Tuesday, September 14, 2021 5:30 p.m. @ GMS Library All Parents Invited