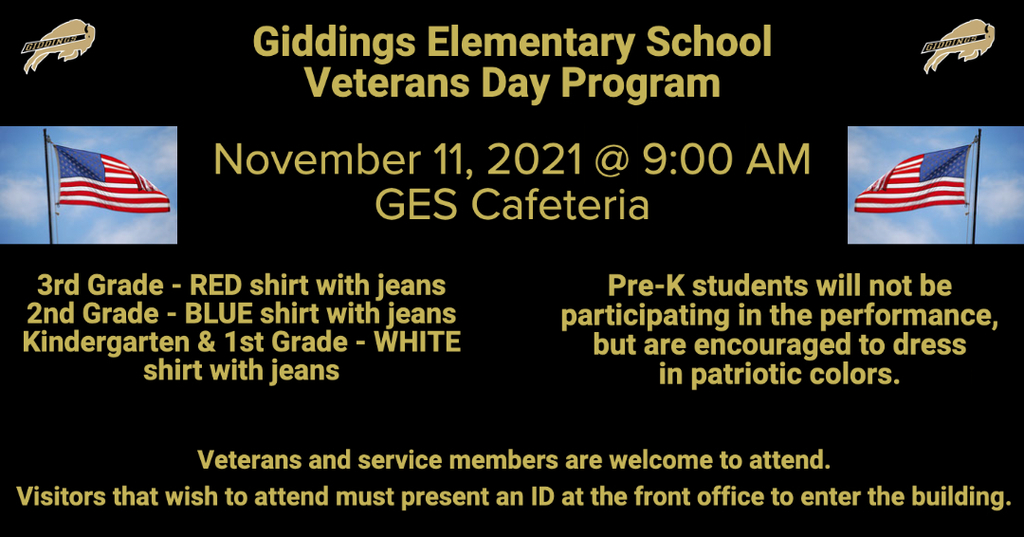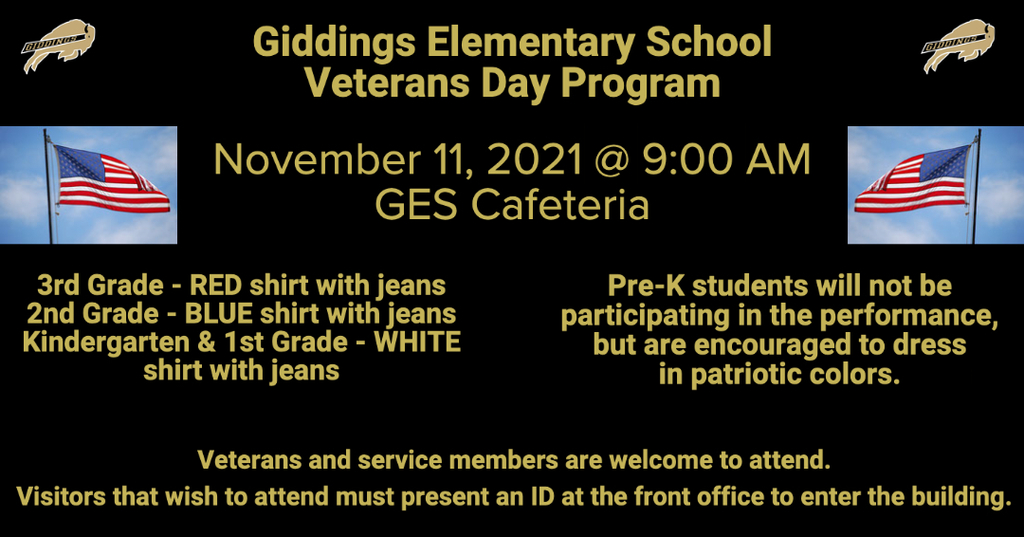 Due to the GHS Volleyball Playoff Game, Giddings Middle School Beta Club Induction has been moved from Tuesday, Nov. 9, 2021 to Thursday, Nov. 11, 2021 (same time and location). Good Luck Lady Buffs!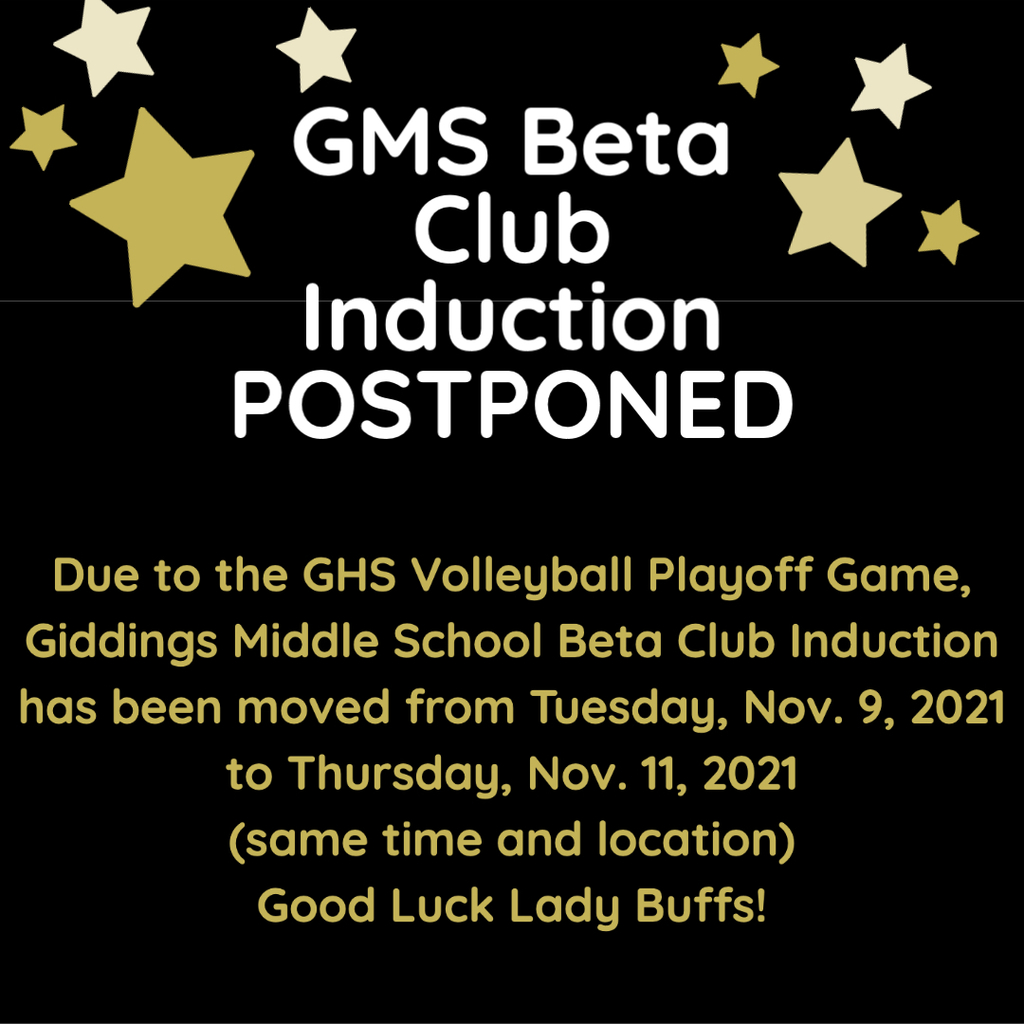 The GHS Lady Buffs will travel to Pflugerville - Weiss to play Burnet in the Regional Quarterfinal round of the UIL volleyball playoffs. The match is Tuesday, Nov. 9 at 6:30 pm. Tickets are $5 and $3 at the door or online at:
https://bit.ly/GHSvsBurnet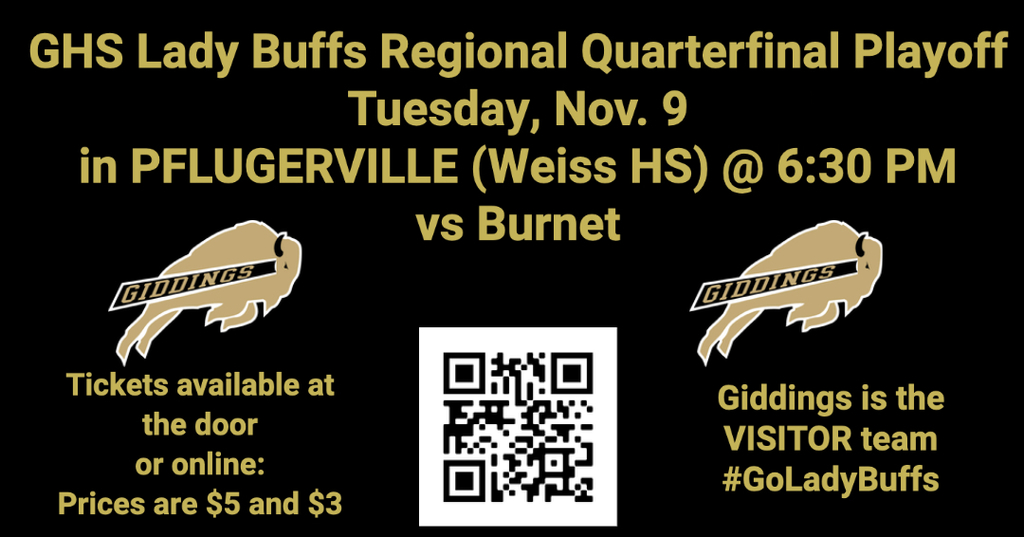 REMINDER!! -- Today's Pre-game meal fundraiser for Lady Buffs athletics is DRIVE THRU ONLY! (Friday, Nov. 5) The line will open at 4:30pm and remain open until 7pm. There are about 40 tickets left. They will be sold on a first-come-first-served basis. The hamburger meal is $10. #GoBuffs #GoLadyBuffs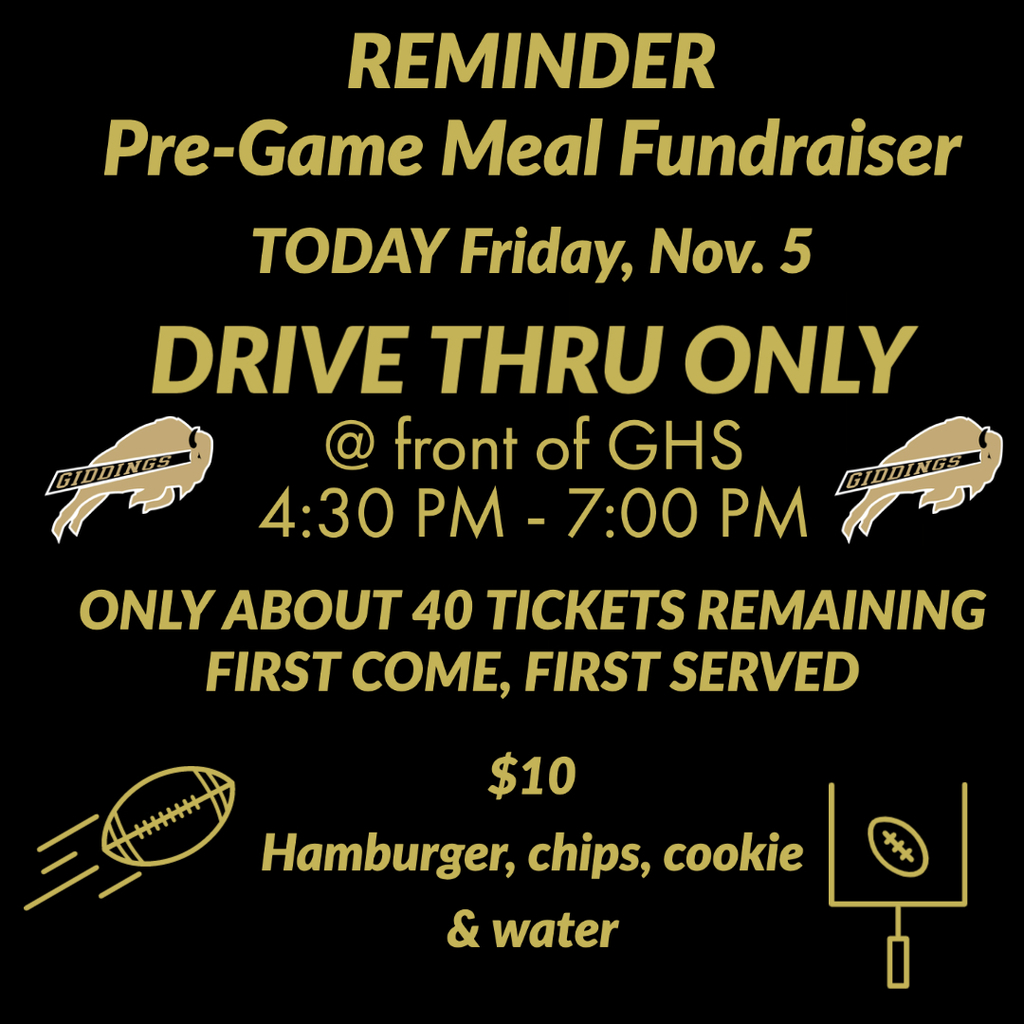 Help the Giddings High School Student Council honor local heroes! Sponsor a wreath today to be placed on a veteran's grave this December at the City of Giddings Cemetery. Just scan the QR code with your smart phone camera to make a donation online or visit
www.wreathsacrossamerica.org/TX0954
. The Due date for ordering wreaths is Monday, November 29, 2021. Wreaths will be placed December 16 & 18, 2021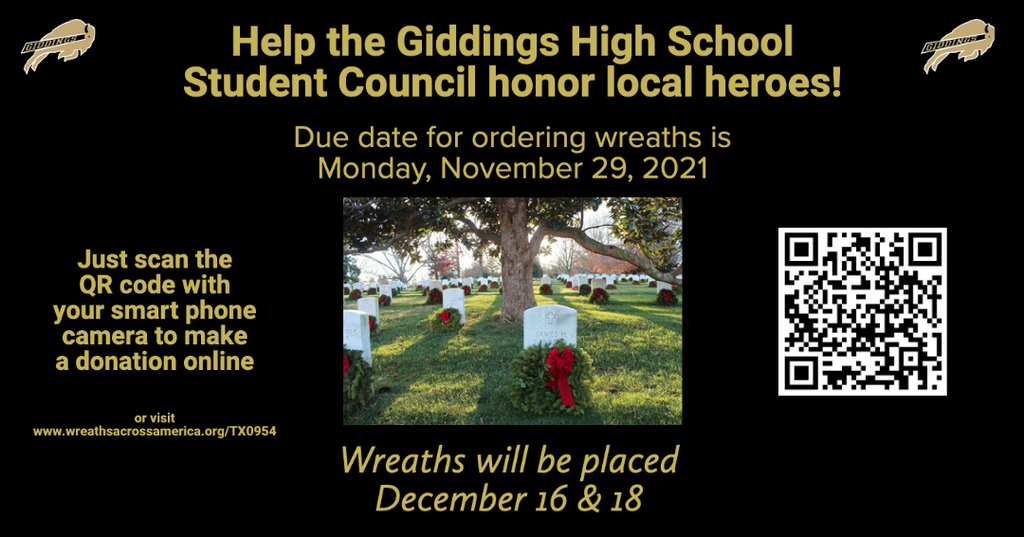 The GHS Lady Buffs Varsity Volleyball team advanced to the Area round of the playoffs. They will play the match in Navasota on Thursday, Nov. 4 at 6:30 pm against Madisonville. Giddings is the Home team. Tickets will be available at the door for $5 and $3. #GoBuffs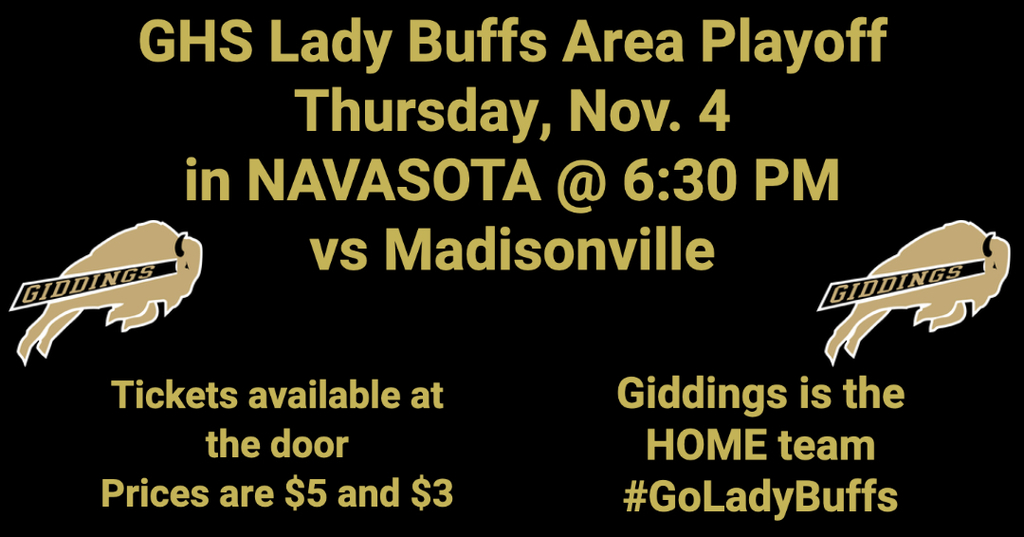 The GHS Lady Buffs volleyball team will travel to TAYLOR for a Bi-District playoff game against Gateway Prep. The match is tomorrow, Tuesday, Nov. 2 at 6:30 pm. Giddings is the HOME team. Purchase tickets online:
https://bit.ly/GHS-BiDistrictPlayoff

The playoff game for top seed between Co-District Champions Giddings Lady Buffs and La Grange Lady Leopards will be played in Smithville tonight, Friday, Oct 29, at 5:00pm. Giddings is the HOME team. Tickets must be purchased online here:
https://bit.ly/VB-Playoff-GHS-LGHS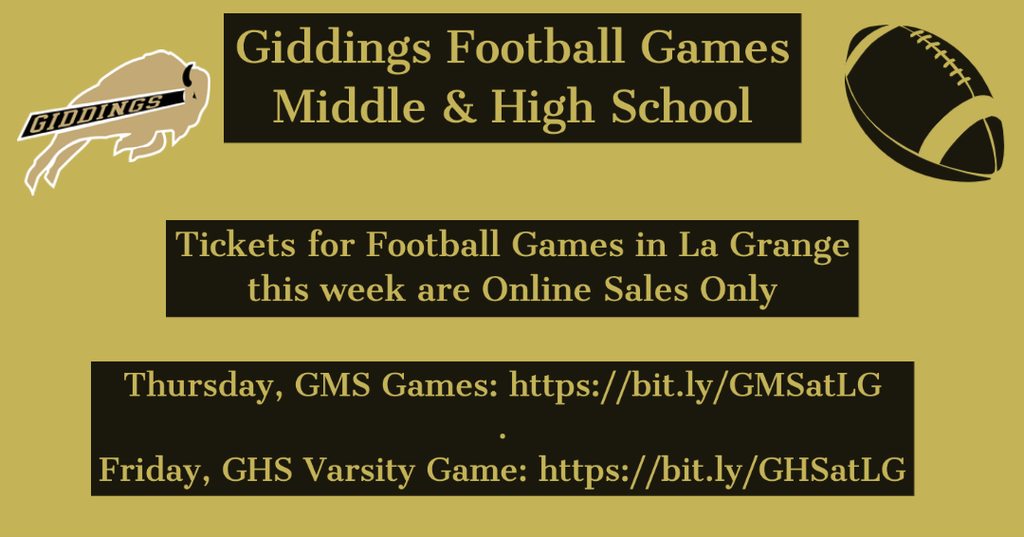 Giddings Intermediate School is participating in the Big Kahuna Fundraiser program. By using the link below, you will be able to shop for various items that will help raise money for GIS. Any purchases or donations made from you will be greatly appreciated! Please go to their shopping site:
https://bigkahunaprime.com?sellerid=7013559
. Individual students are earning prizes by selling items, so if you are shopping for a specific student, please contact the student's family to retrieve their individual shopping number. The link below is for anyone wanting to help support GIS, but items sold won't be credited to an individual student's account for earned prizes. Online sales end November 5, 2021 at midnight (Central Standard Time) If you have any questions, please contact Giddings Intermediate School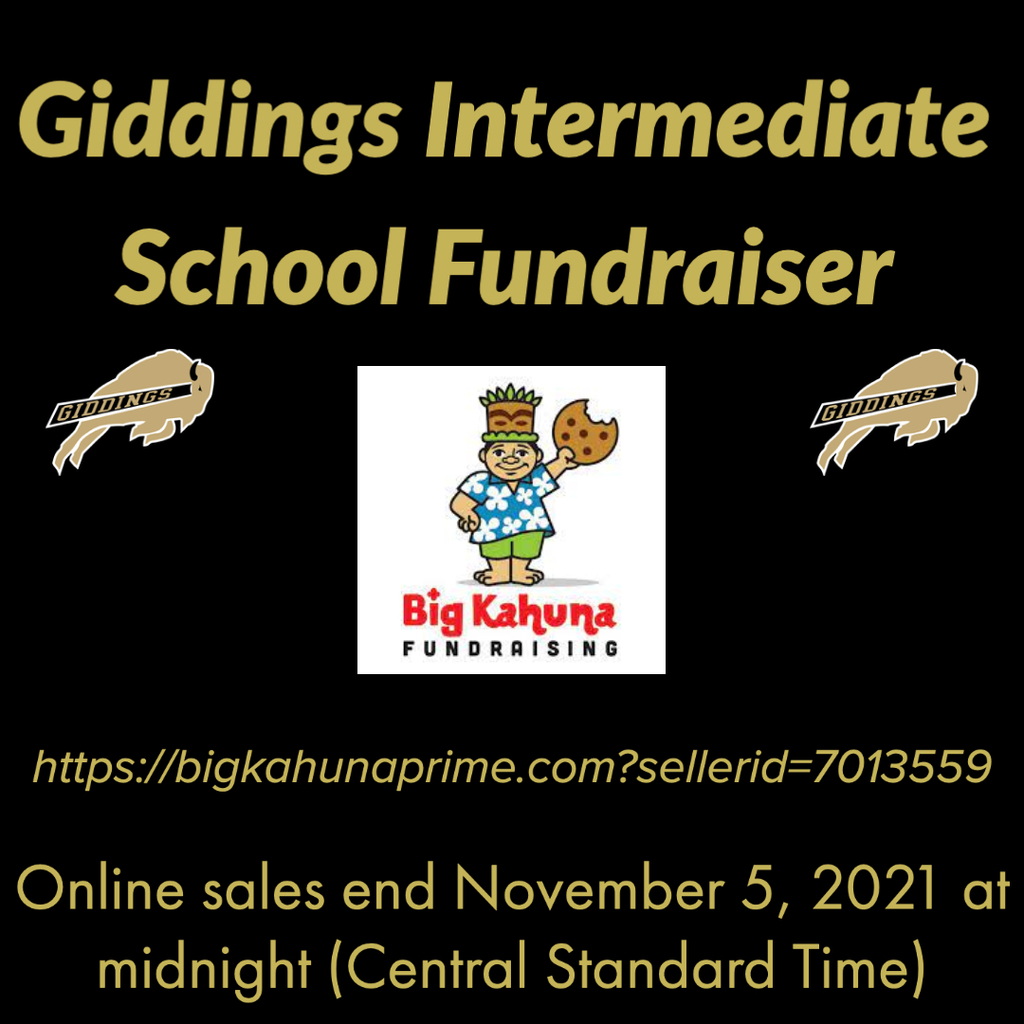 Due to a scheduling conflict, today's School Board meeting will begin at 5:30 PM (as opposed to the traditional 7:00 PM)If you have any questions, please contact the Superintendent's Administrative Assistant Dana Devoll at 979-542-2854.

Who is ready for an adventure? Come join us in 2023! We'll be headed to Australia & New Zealand over the summer of 2023! Interested in learning more about these trips (and how you can earn a $200 discount?!) Come to the in-person parent & student info session on Thursday, October 28th. RSVP is REQUIRED and can be done by scanning the QR code in the picture or visiting
https://bit.ly/3mPkXhM
. Can't wait to see the world together soon!

***GHS Boys Soccer Scarf Fundraiser *** Support the boys soccer team by purchasing a GHS Soccer or Giddings Community branded scarf, $20 for one or $35 for two. Contact Coach Pedro Eguez for more information.
pedro.equez@giddings.txed.net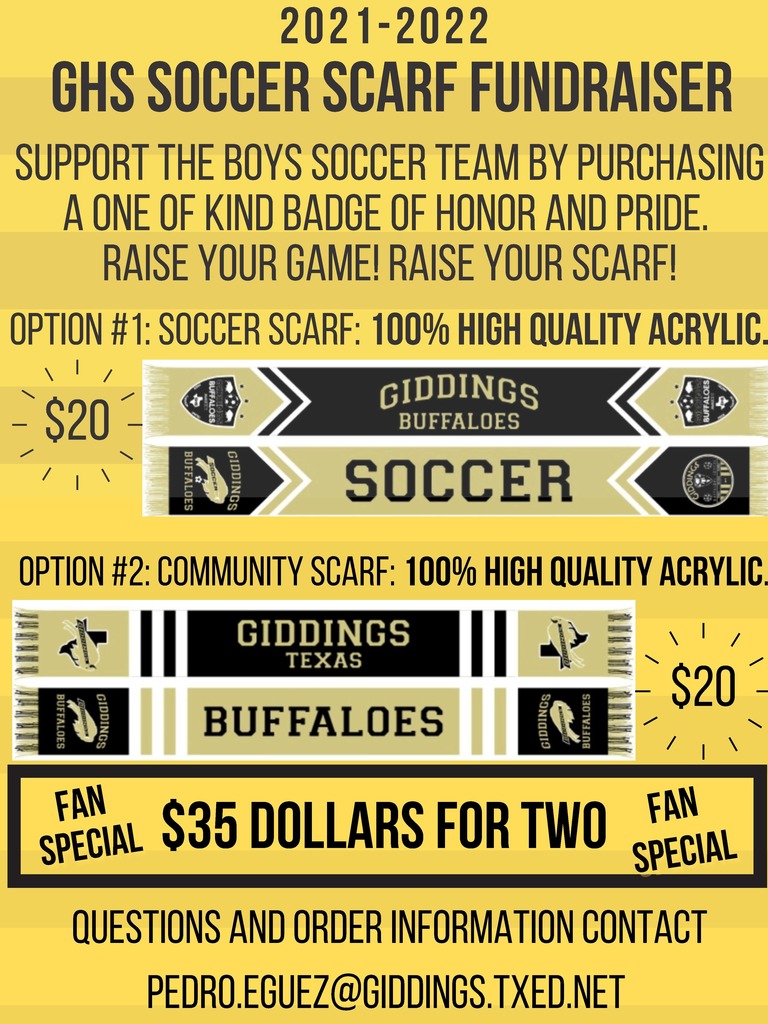 *** REMINDER *** EARLY DISMISSAL *** *** TOMORROW, OCTOBER 15, 2021 *** All GISD Campuses will dismiss 2 hours early tomorrow, Friday, October 15, due to transportation needs for participants in the GHS Varsity Football game in Cuero.

**GAME TIME CHANGE** The GHS Lady Buffs Volleyball games scheduled for Friday will be played as follows: Varsity-4:30; Freshman & JV - 5:30. These will be the last home games of the season. It is also Senior Night.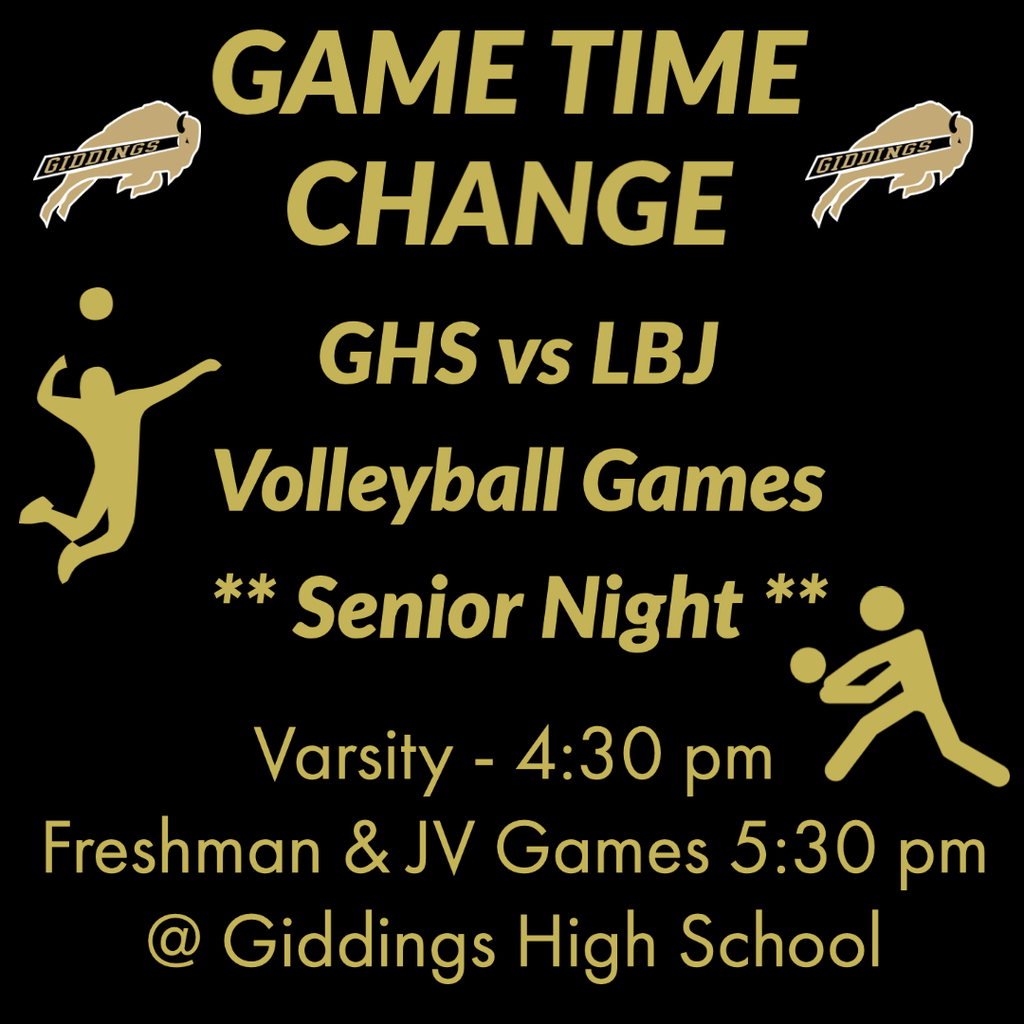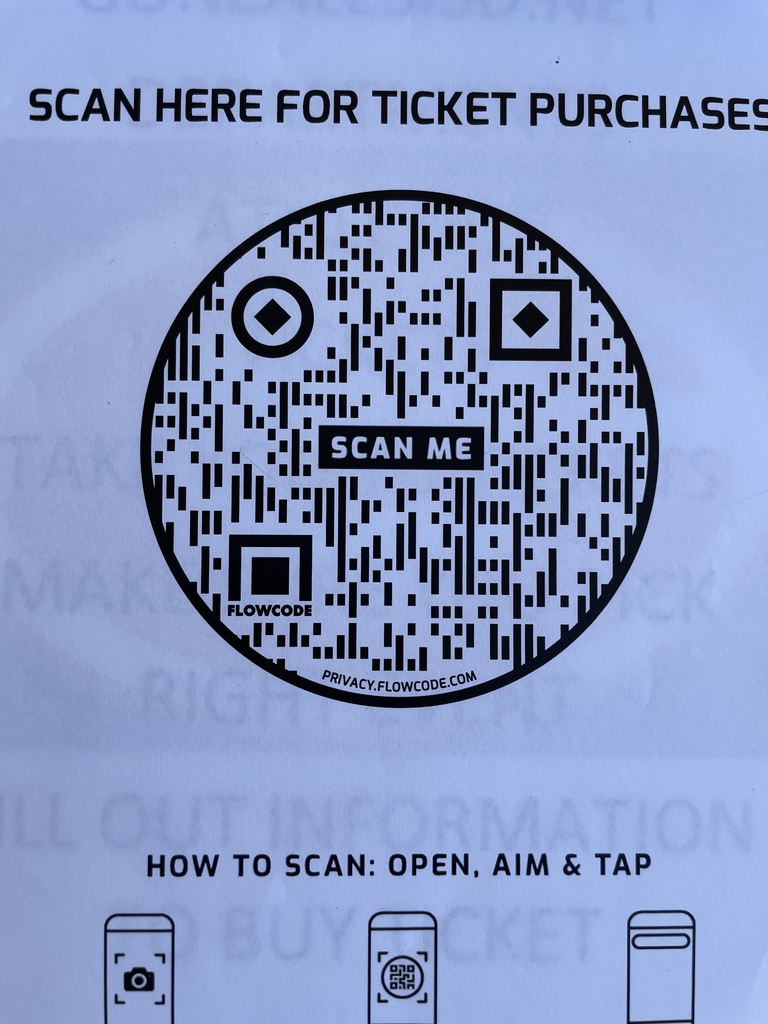 **** NOTICE OF EARLY DISMISSAL *** All GISD campuses will dismiss 2 hours early on Friday, October 15, 2021. *** Due to a shortage of bus drivers, an early dismissal is necessary to provide for the transportation of all participants to the varsity football game in Cuero. *** Dismissal times are: GES-1:15; GIS-1:20; GMS-1:25; GHS-1:35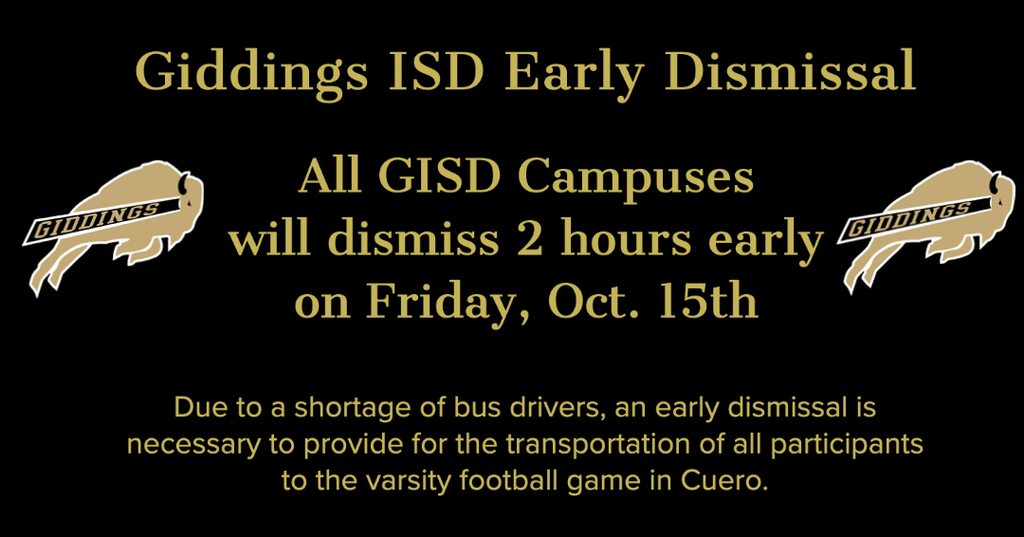 The start times for the home volleyball games against Smithville (Friday, Oct. 1) have been changed, with the freshman and JV teams starting at 5 pm, and the varsity match starting at 6 pm.