The GISD Official Sideline Store is OPEN! Orders are made online and sent directly to the buyer's address. Items are available in both children and adult sizes, and there is a huge variety of merchandise to choose from! Quick Link:
https://bit.ly/3Cz2uiN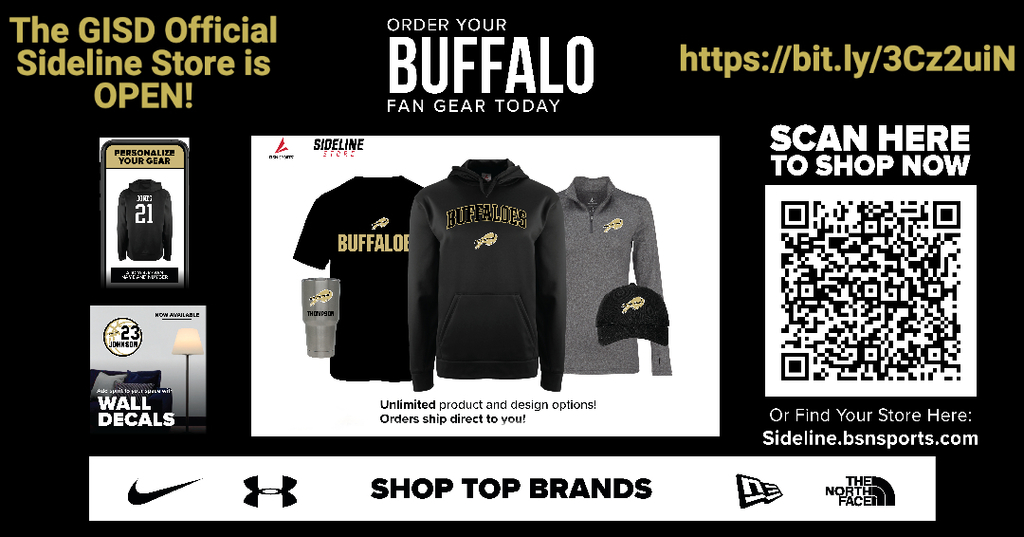 The Lady Buffs volleyball matches scheduled for tomorrow, Friday, Aug, 26, have been cancelled.

Remember Family Impact Night is the 3rd Wednesday of each month! GISD has set aside one night per month in which all students in every grade level will not be assigned homework. The goal is to encourage families to foster, re-establish, or even strengthen relationships in the household. MAKE AN IMPACT! Read more here:
https://5il.co/1gsd0

For those parents who planned on turning in registration forms for Giddings Future Buffs at the cancelled Meet The Buffs event, please make sure they are turned in to the Giddings Elementary front office no later than tomorrow, Tuesday, August 23. Thank you!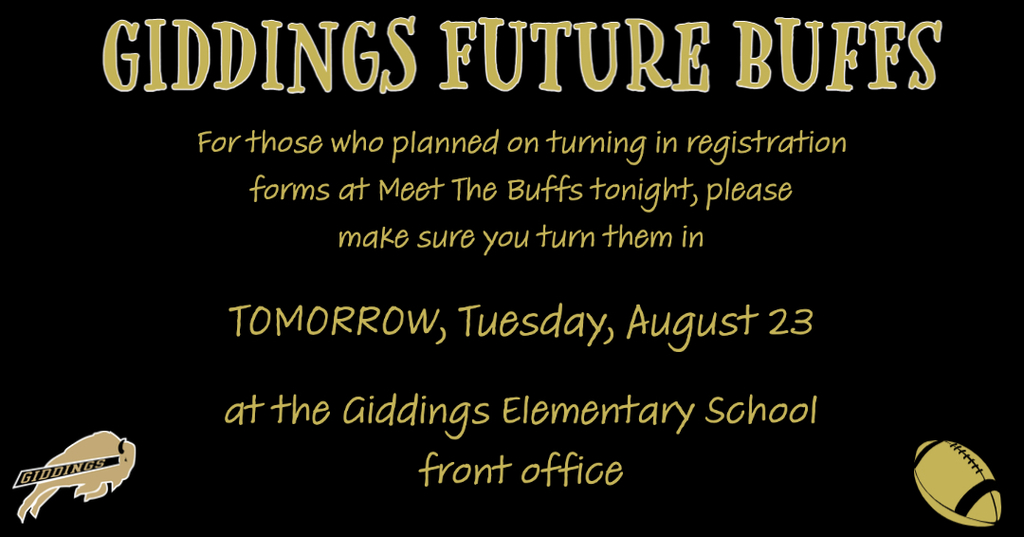 Due to severe weather, Meet The Buffs is cancelled for this evening. Stay safe!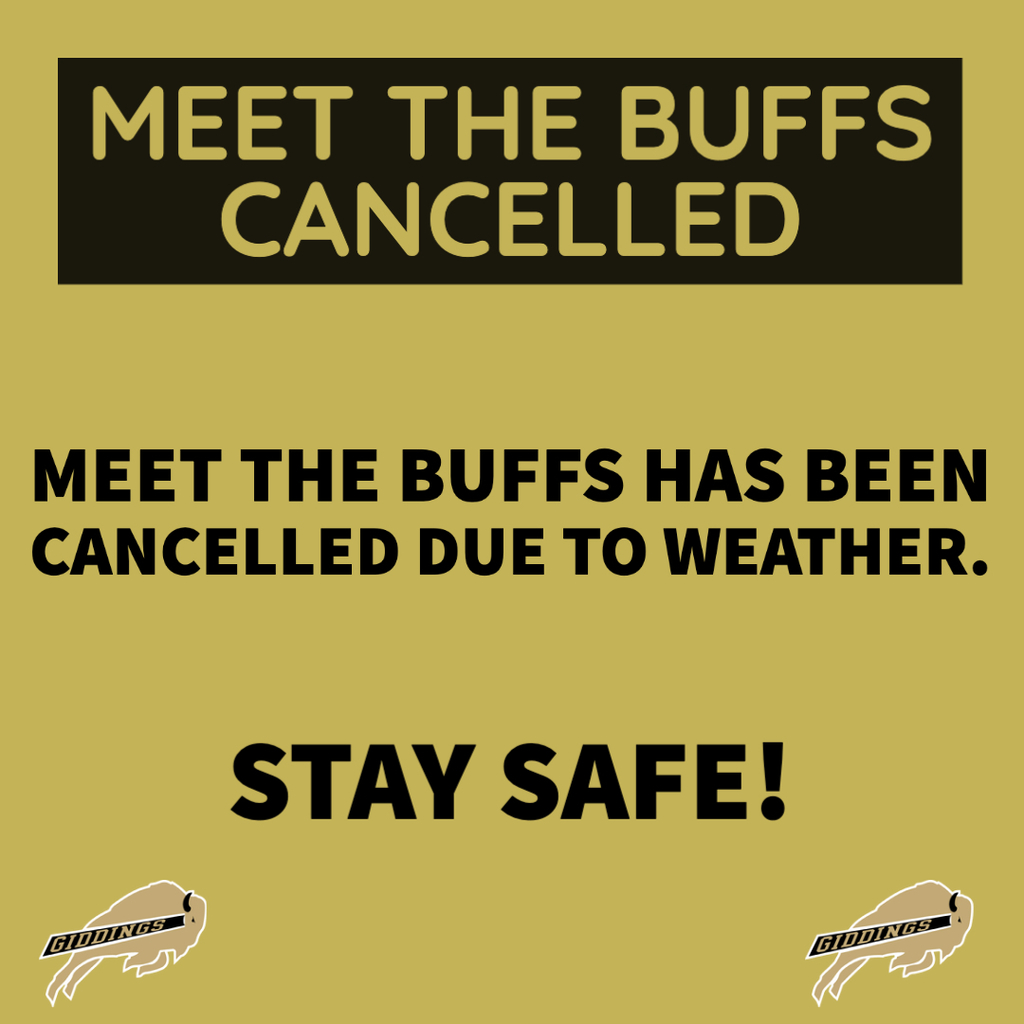 Don't Forget!! Meet The Buffs Tomorrow, Monday, Aug. 22 @ 6:00pm Buffalo Stadium

Please click the link to read a letter to parents about a BB gun found at GIS on 8/19/2022
https://5il.co/1ghum

The Buffs high school football teams are scheduled to scrimmage against Bellville this evening at 6 & 7:30. As the potential for severe weather exists, start times may be delayed. Any updates will be posted on social media and the Giddings ISD app.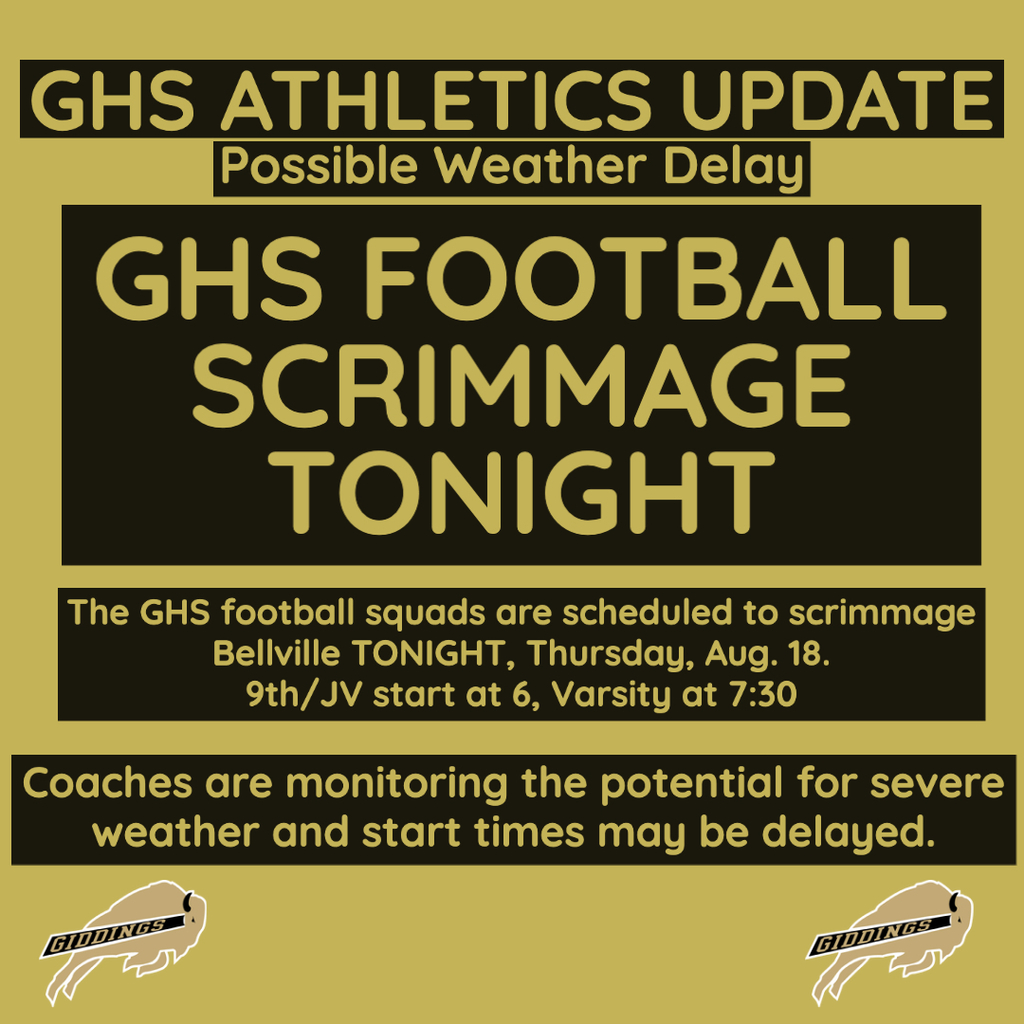 GISD Superintendent Roger Dees highlights a few items of interest for the Giddings ISD community -- a PDF of this newsletter is available here:
https://5il.co/1g63e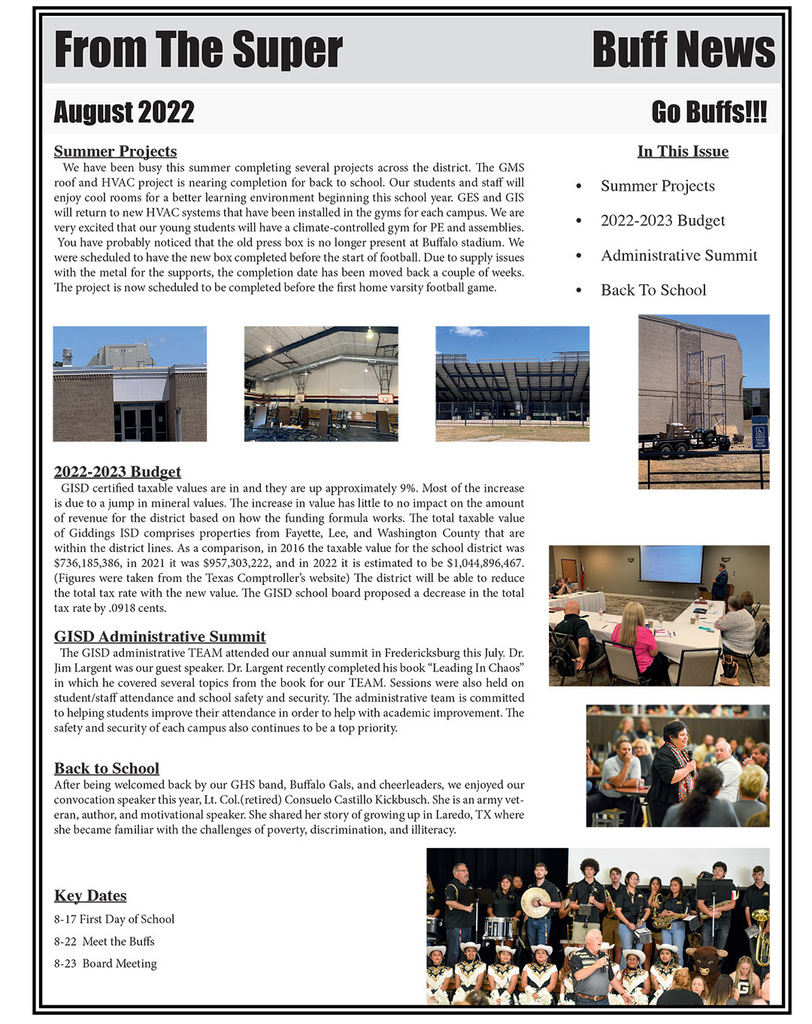 Giddings Middle School Students:: If you would like a hard copy of your schedule, you may pick one up at the GMS office Wednesday (8/10) or Thursday (8/11) between 8am and 3pm. *** Schedules are available on the Parent Portal *** Schedules will also be available at the Meet The Teacher event on Thursday evening from 6pm to 7pm.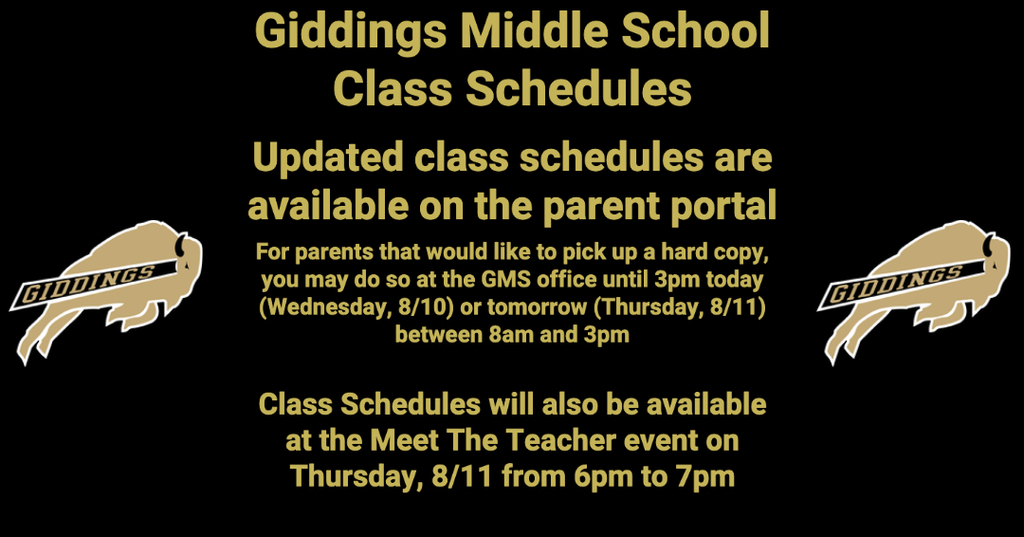 GMS Athletes: 7th & 8th grade boys/girls with physicals on file or in-hand will be able to pick up equipment on August 15th & 16th from 1-3 pm at the MS gym. All athletes must have a physical on file in order to begin practice/workouts for the upcoming season.

Come be a part of the newest Buffalo tradition: Giddings Future Buffs! Registration is open to all kids, ages Pre-K – 5th grade. The cost is $25. The registration form can be downloaded here:
https://5il.co/1ewsf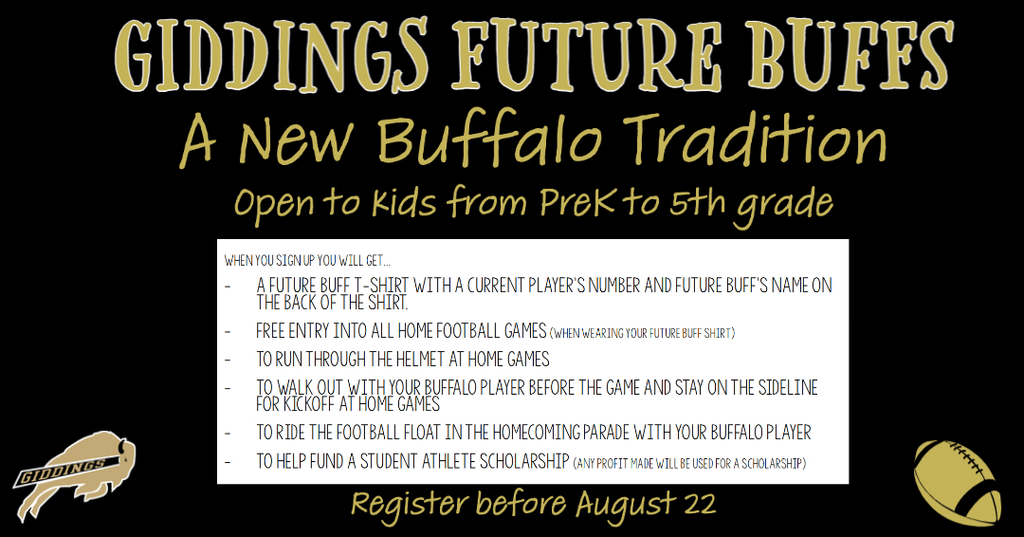 Reserved seating football tickets are now available for purchase at Giddings High School prior to the first game. There are many reserved seats available for purchase. Reserve season tickets are $8.00 per game or $40.00 for all 5 home games. The first home game is Friday, September 9th versus Lago Vista. Previous ticket holders will have the option of obtaining the same seats as the 2021 season before the first home game. On Monday, September 12th, all unclaimed, previous year, reserved season tickets will go on sale following the first home game. Reserved tickets will remain on sale at Giddings High School during the football season for purchase. Reserved seating will also be sold at the first home game ONLY so get them early.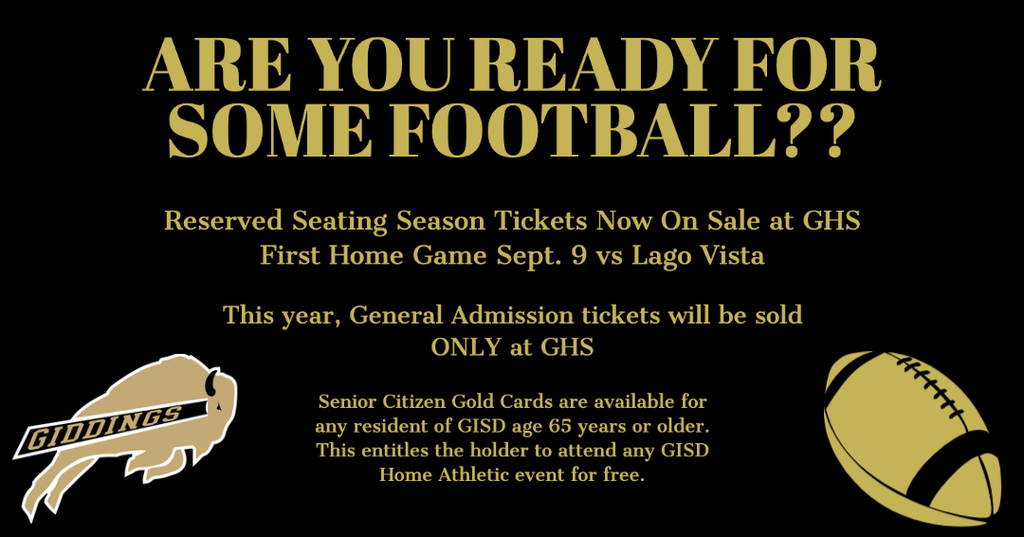 For new GHS students who are unable to complete registration online, you may register on Monday August 8, 2022 and Tuesday August 9, 2022 at the Giddings High School front office between 9:00a.m.-12:00 noon and 1:00p.m.-4-p.m. All student class schedules are available online through the Ascender Student Portal. (
https://asctxportal.esc13.net/StudentPortal/login?distid=144901
) For any schedule change requests, students should email their counselor.

Giddings Middle School will hold Meet The Teacher night on Thursday, August 11 from 6pm to 7pm. A 6th grade Parent Meeting will be held the same night from 5:30pm to 6pm.

Giddings Intermediate School will hold "Meet the Teacher Night" on Monday, August 15th from 5:30pm to 7pm. A meeting for 4th grade parents will be held from 5:00pm to 5:30pm in the GIS cafeteria. GIS Meet the Teacher Night will be a great time to visit with your child's teachers and drop off school supplies.

Giddings Elementary School Open House will be held on Thursday, August 11 from 4:30 pm to 6:00 pm.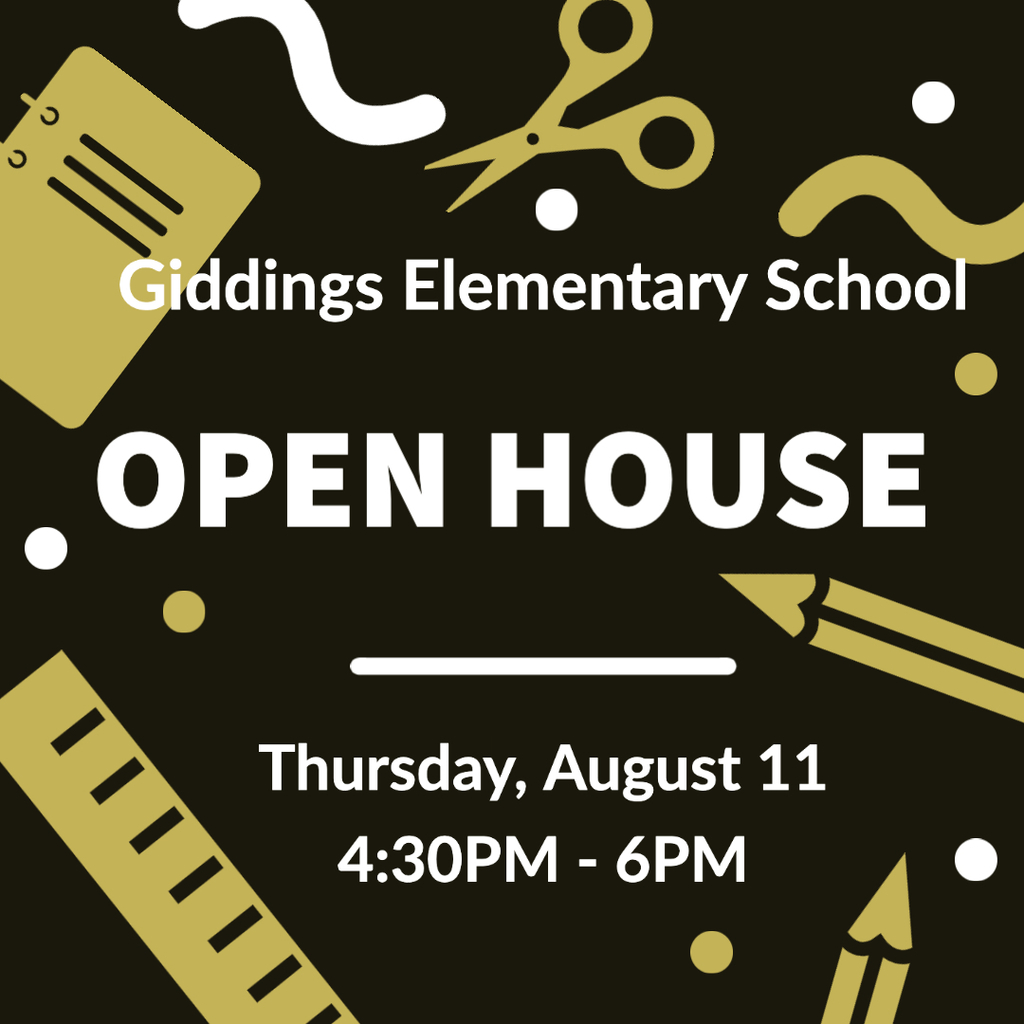 The GHS Freshman Orientation will be held on Tuesday, August 2 at 6:00PM in the cafeteria. Mark your calendars!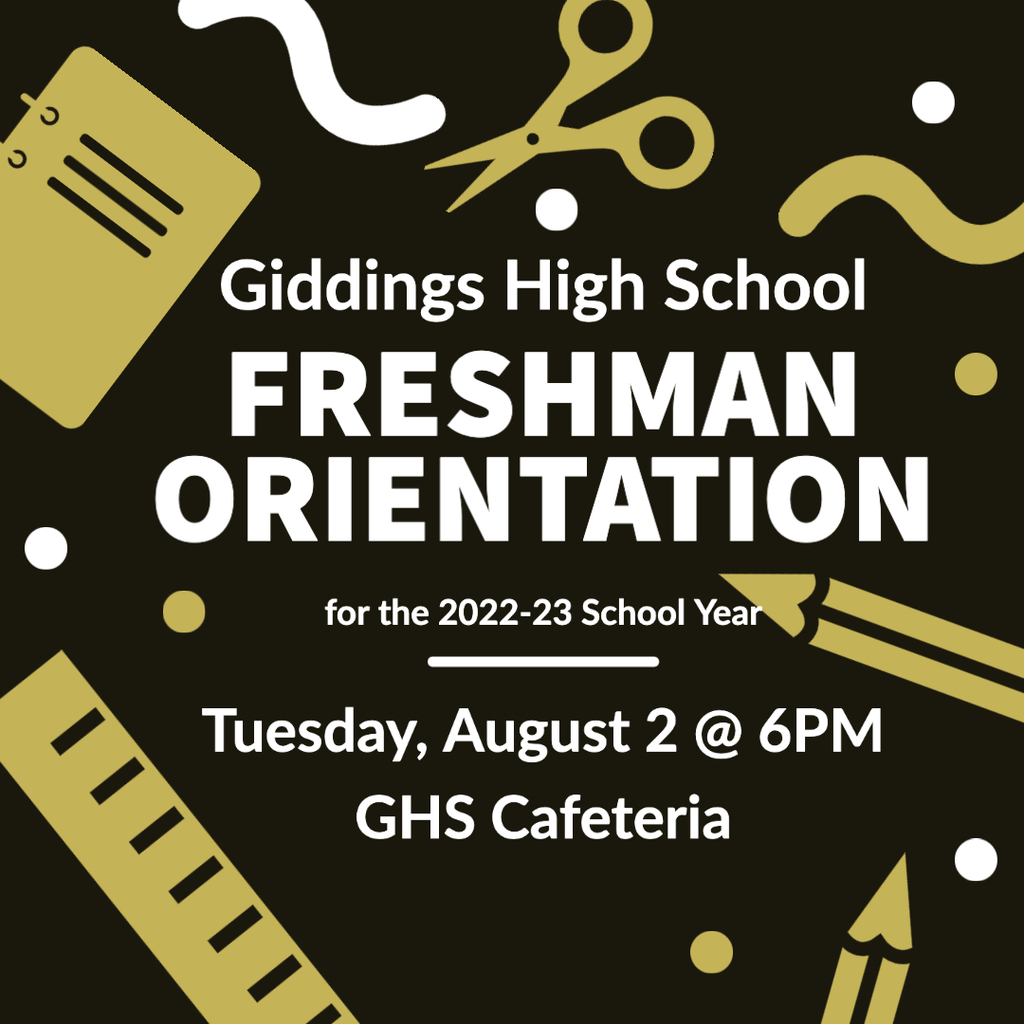 The GES Kindergarten Roundup event will be held Wednesday, July 27th from 1pm to 4pm, and Thursday, July 28th from 9am to 12 noon. More information is available here:
https://5il.co/1eh89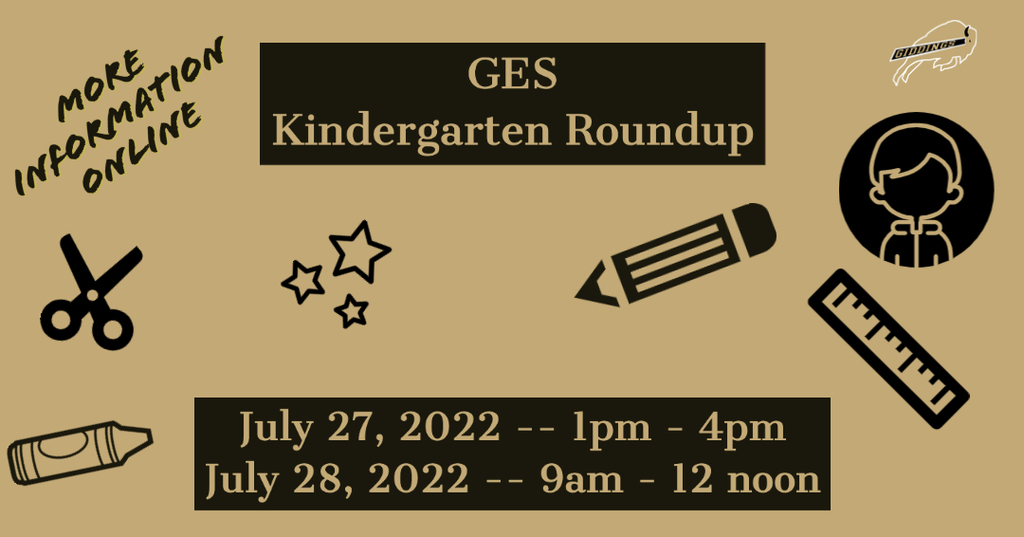 The GES Pre-Kindergarten Roundup event will be held Monday, July 25th from 1pm to 4pm, and Tuesday July 26th from 9am to 12 noon. More information is available here:
https://5il.co/1eh8b