There will be an additional GHS Freshman Orientation Session on Saturday, Aug. 29 at 12 Noon for anyone who is unable to tonight's session.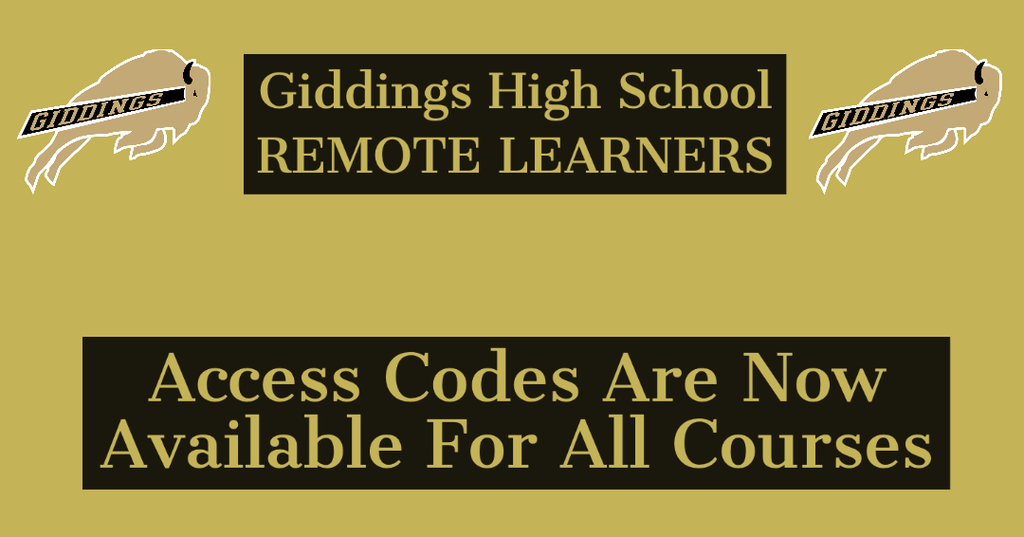 Tickets for the home football game this week (Buffs vs Bellville) are now available for public sale. The link for purchase can be found on the GISD website or can be accessed directly here:
http://bit.ly/BuffsVsBellville


IMPORTANT ANNOUNCEMENT FOR ALL GISD PARENTS PARENTS: CHANGES WILL NOT BE MADE TO THE DECISION FOR REMOTE OR IN-CLASS LEARNING AFTER 3:00 PM TODAY, TUESDAY, AUGUST 25 2020. Campus Counselors must have final selections in order to complete schedules and balance classes. After 3:00 pm today, no further changes will be allowed until the end of the first six weeks.

Here is the current list of all Meetings and Orientations that will take place THIS WEEK across GISD:
https://5il.co/k299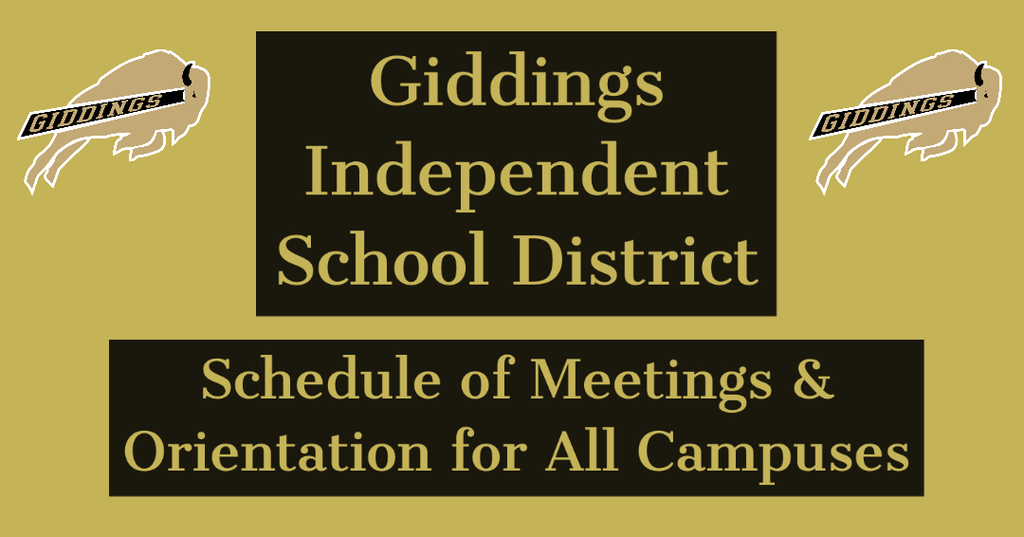 Giddings Middle School will hold a meeting for incoming 6th grade students. The meeting will take place in the GMS GYM. Please enter the gym through the double doors facing the GISD ADMIN Building. DATE: Monday, August 24, 2020 TIME: Students with Last Name (A-L) - 5:30 p.m. Students with Last Name (M-Z) - 6:30 p.m. Due to COVID-19 protocols attendance is limited to the 6th grade students and ONE parent. Face masks and social distancing are required.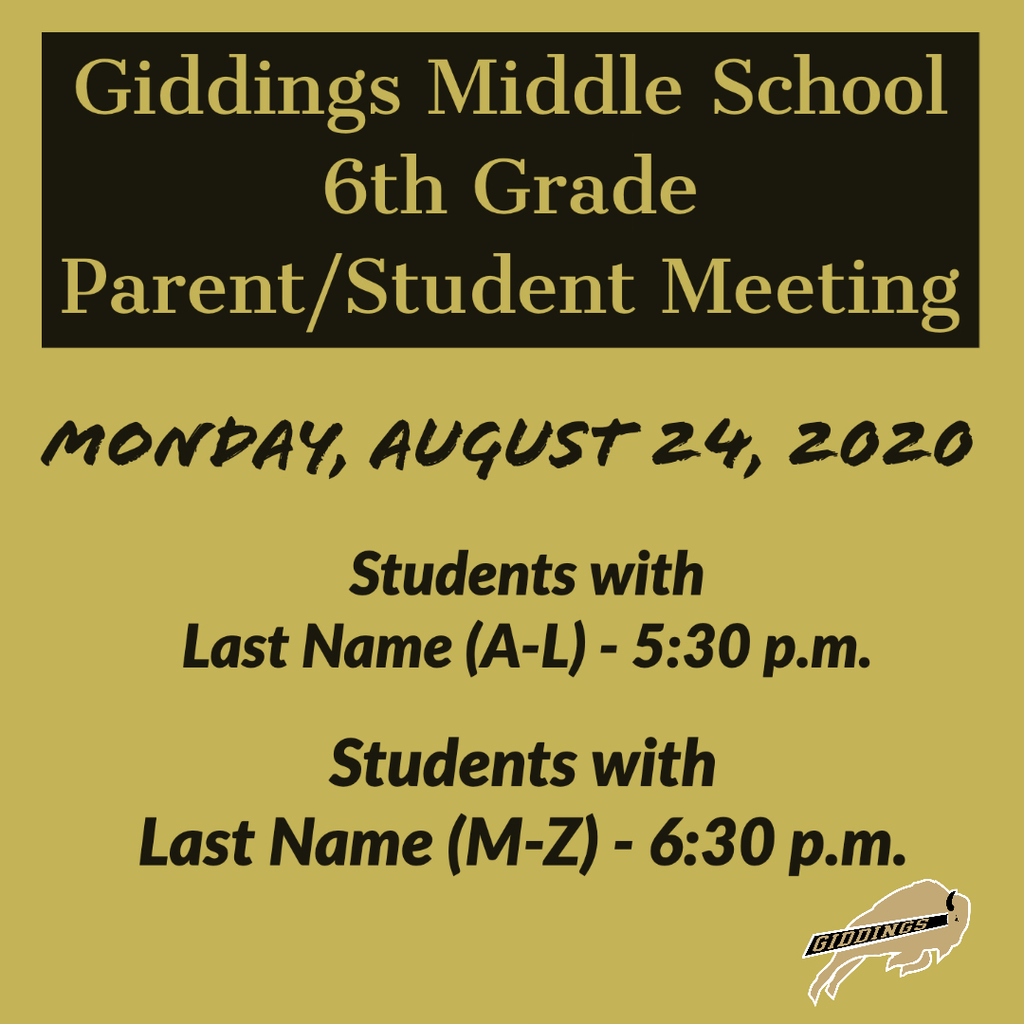 Athletes: SWAP Workouts will be suspended until July 13. Girls will work out July 1, then not workout again until July 13. Boys will not work out July 1.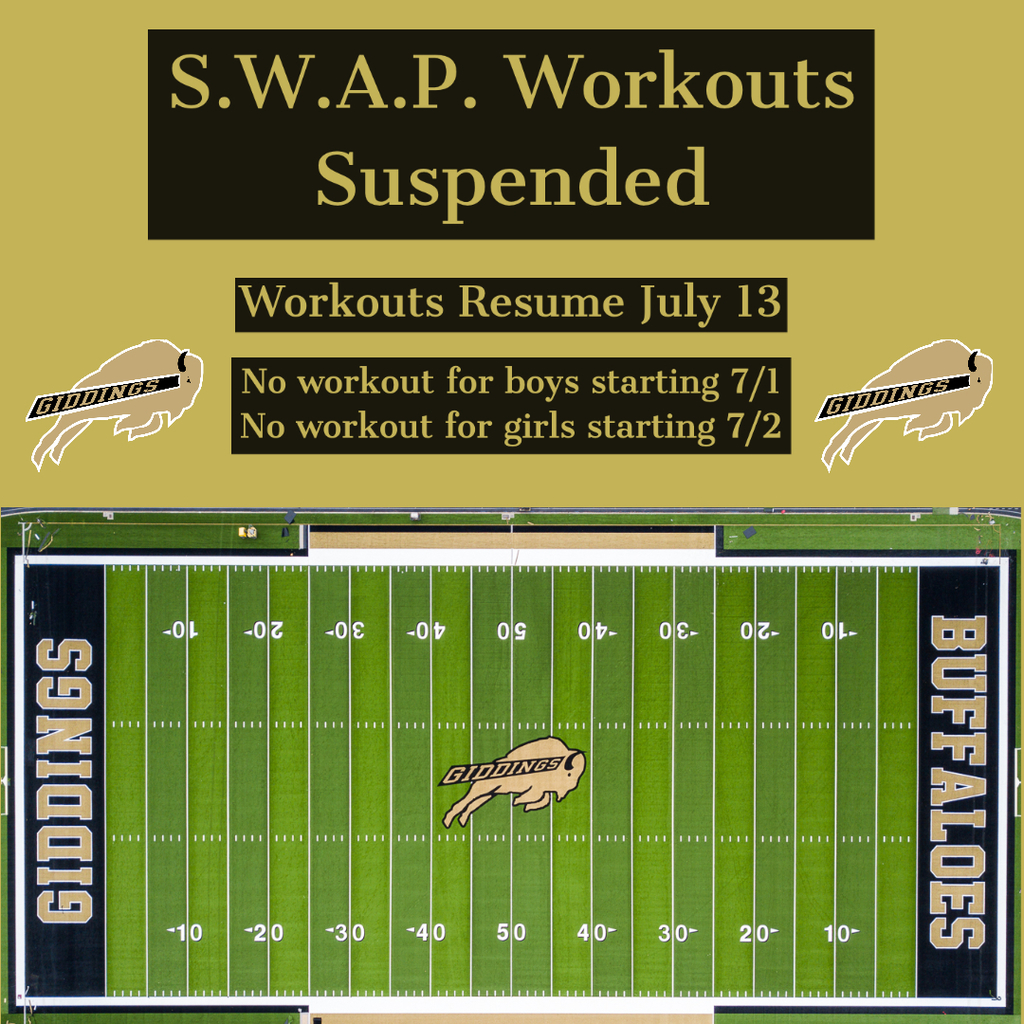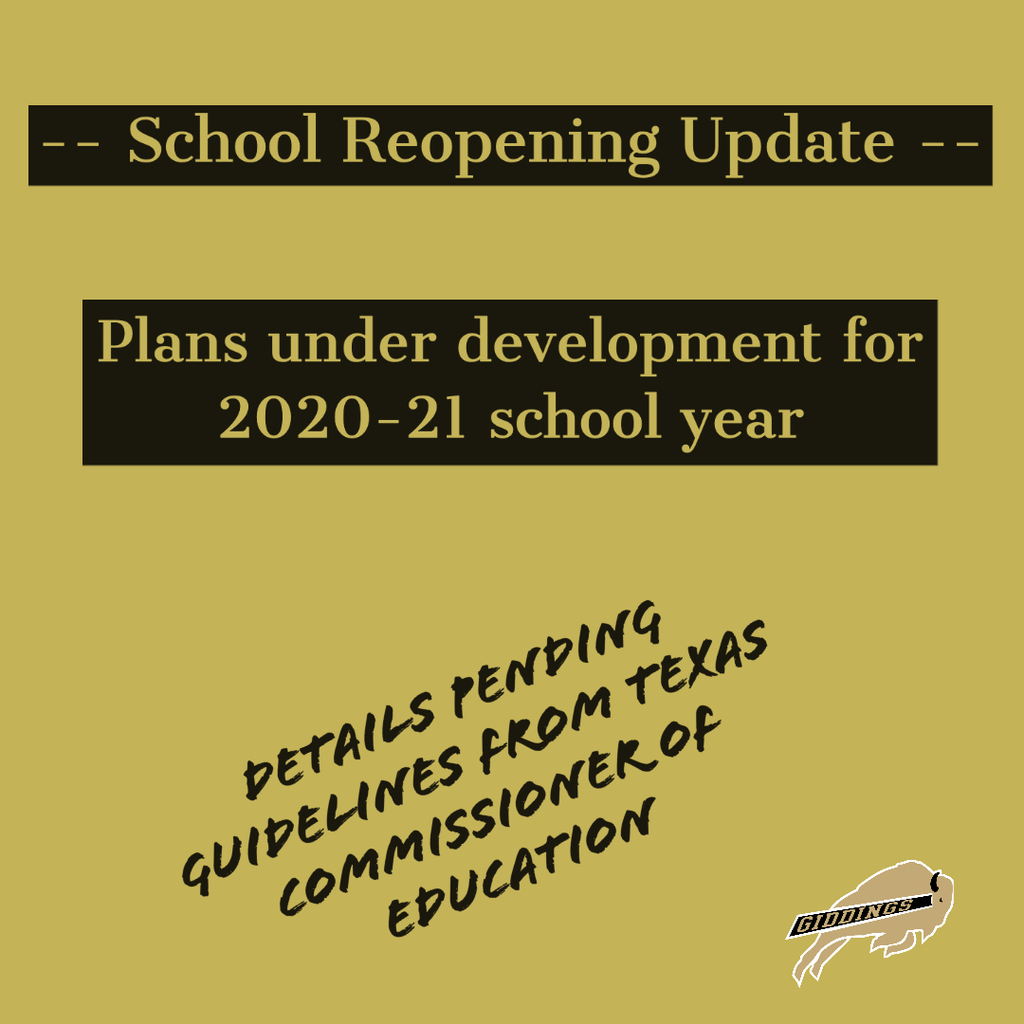 Attention Students Entering 9th Grade: If you have not made your schedule for next year, 2020-2021, please check your school email for a message from Mrs. Smith-Mott, sent on May 19, 2020. It has instructions on how to register for your classes next year. If you did not get the email, please send a message to Mrs. Smith-Mott at
jill.smith-mott@giddings.txed.net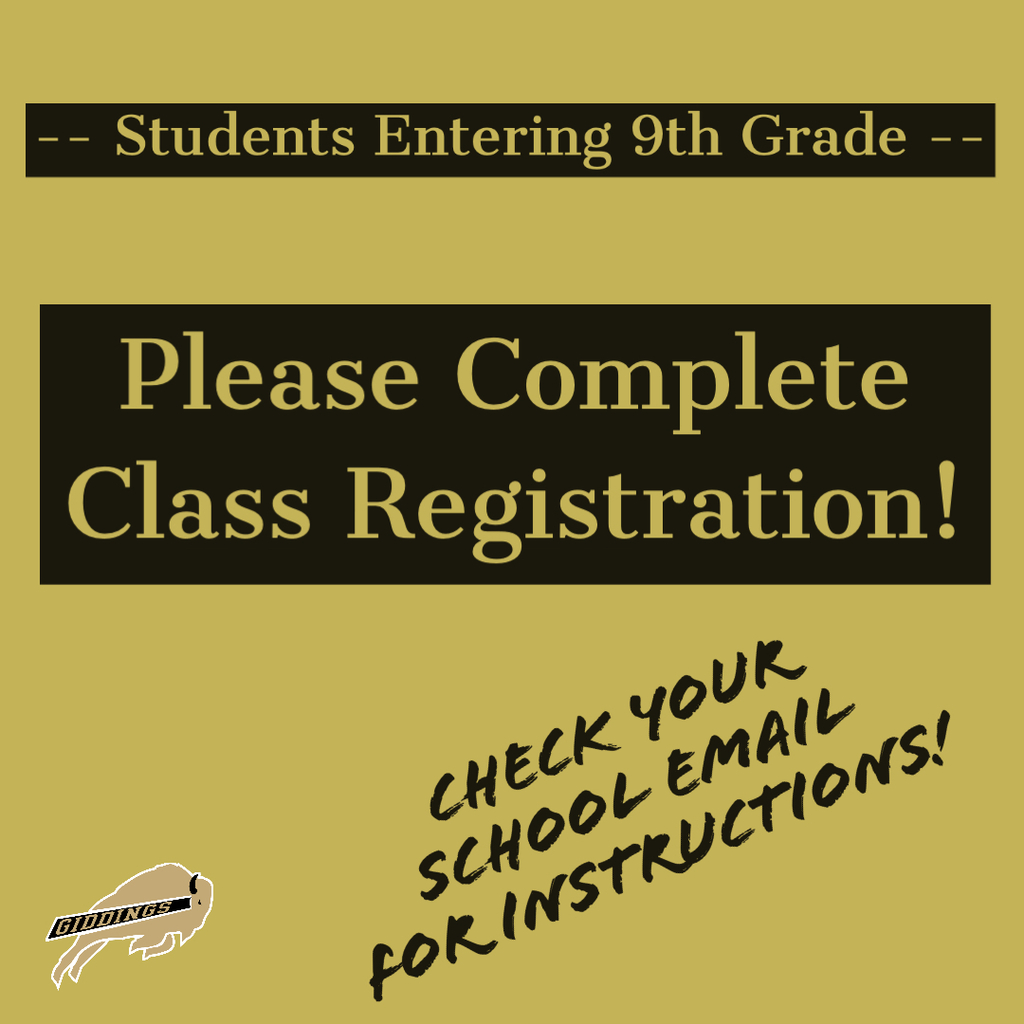 Message to graduates regarding photos: If you did not receive your photo access code in your final report card, you may request one by emailing
fsmith.fsphotog@gmail.com

Congratulations to GHS Graduates of 2020: "Here is the advantage you have over other students who are entering this world. You are a Buffalo! You are a winner! You are going to compete and fight for everything you have in life!"
https://youtu.be/lw-BdvD4F8w

Attendees of the commencement ceremony tomorrow should consider bringing a towel or two in case the bleachers are damp in the morning. #GoBuffs #ClassOf2020

The GHS Class of 2020 Commencement Ceremony scheduled for Saturday, May 30, 2020 at 9AM will be available for viewing via livestream on the GISD facebook page:
https://www.facebook.com/gisdbuffaloes/

Buffalo Stadium will be closed to the public from Friday at 7am until Saturday at 2pm in order to accommodate the setup for commencement and the ceremony itself on Saturday morning.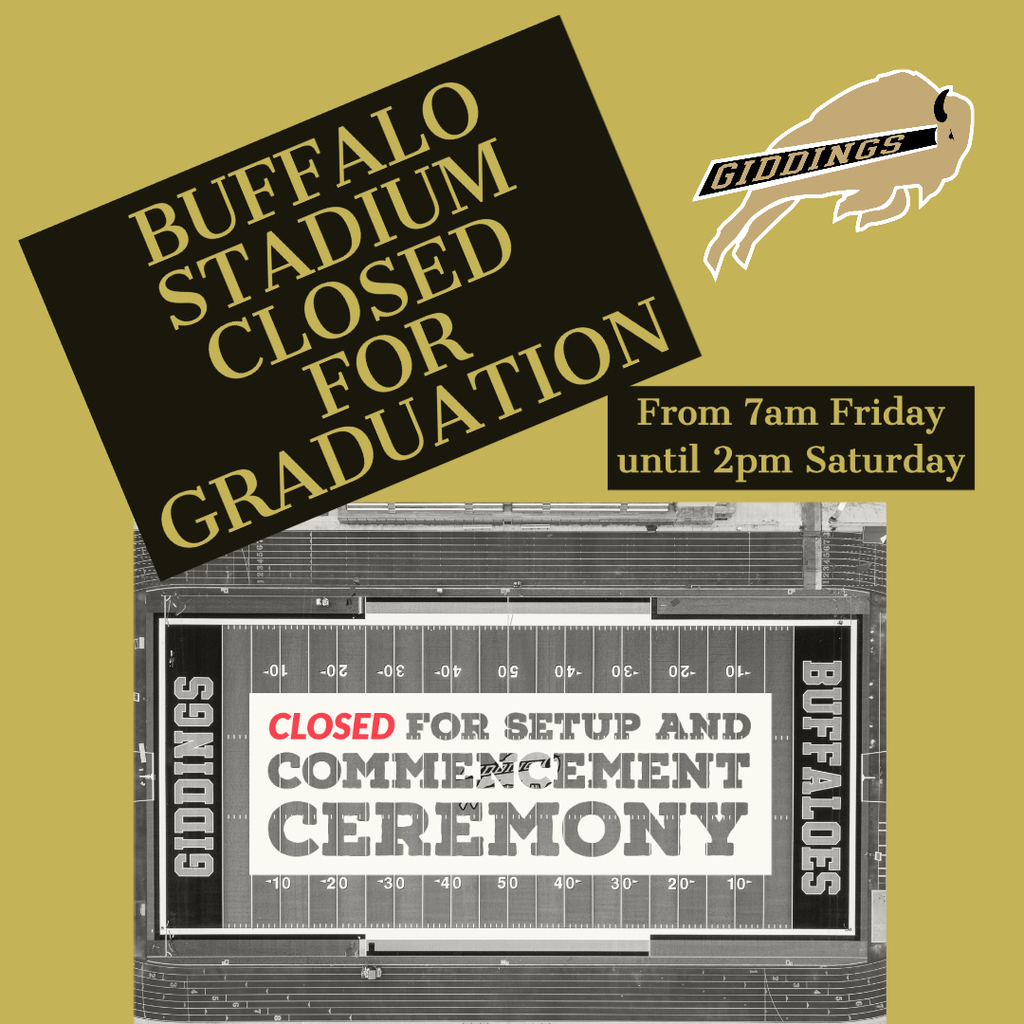 The 2020 Graduation program document can be downloaded & printed from this link:
https://5il.co/gqym


2020 Senior Awards Ceremony -Top 10, Valedictorian, Salutatorian, and scholarship winners announced